A 10-week-old baby black bear made a surprise appearance at the Lake Tahoe Wildlife Care facility last week, arriving inexplicably after showing up first at the nearby BEAR League. According to Tom Millham, a representative from the center, the bear cub -- who has been named Tahoe -- is the first to show up at the facility in its 31-year history.
"It's very unusual. It's never happened before," Millham told the New York Daily News. "We've had birds and other animals left at our doorstep but never a bear before.... "We're still trying to figure out where she came from."
As a video of the little bear playing indicates, Tahoe is doing well and enjoying herself, for the most part. But Millham said that the first few days of her visit to the center took some adjustment. "Her mom had been taking care of her since she was born," Millham explained. "She definitely missed her mom, no doubt about it... She didn't like being away from her but she has settled down a bit."
Tahoe is healthy and expected to return to the wild this week.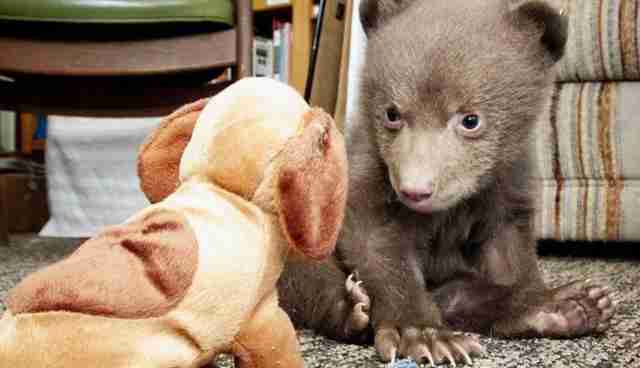 Photos by Dan Thrift via New York Daily News.