Tiny Baby Bird Fell From The Sky — And Found A New Family
When Chelsea Toston's friends saw something fall from the sky and into the back of the truck, they figured it was a piece of debris - not a living creature.
But, amazingly, it was a tiny baby bird, only a few days old.
Chelsea Toston
"There weren't any trees around, so we assume that Larry was birdnapped from her nest and dropped by another bird," Toston told The Dodo. "They weren't sure what to do with her, so they called me and asked me to come over."
Toston had raised rescue birds in the past and was more than willing to help. The friends who found the baby bird initially thought she was a boy and named her Larry. Even after they discovered she was a girl, the name just stuck.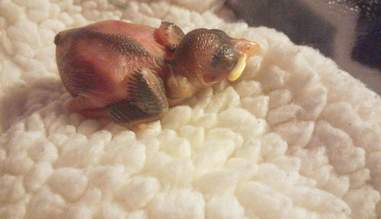 Chelsea Toston
Toston made a makeshift nest for tiny Larry in her nightstand drawer, but most of the time, Larry just wanted to be held by her new mom.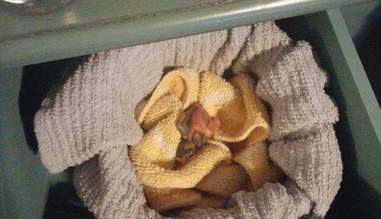 Chelsea Toston
Larry was incredibly tiny and frail when she was rescued ...
Chelsea Toston
... and yet she made it through ...
Chelsea Toston
... and began to grow into a healthy little sparrow.
Chelsea Toston
Larry is very affectionate, and growing up she always wanted to be snuggled up in Toston's hand or on her neck - and sometimes even in her bra.
Chelsea Toston
"As she learned to fly, there was no escaping her, which we were OK with," Toston said. "Now, she can hear us coming down the hallway and is already hovering at the door when you open it."
Chelsea Toston
Another quirky thing about Larry is her favorite food is grapes. "If you give her a piece she will roll it around in her mouth before swallowing it, then quickly ask for more," Toston said. "She has a specific excited chirp that comes out when she eats grapes."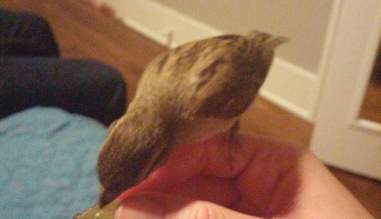 Chelsea Toston
Larry has three cats and one dog for siblings, but she rarely acknowledges them - she's much too busy cuddling with her mom and her mom's boyfriend, Jason. The cats are totally fine with this indifference, but the dog can get a little protective sometimes.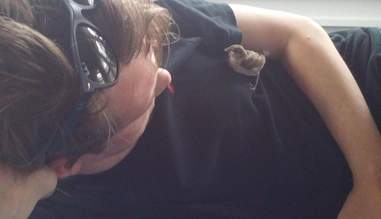 Chelsea Toston
"If we are holding Larry on the bed, the dog will stand guard and bark at or attack anyone who comes close," Toston said.
Chelsea Toston
Larry is now four and a half weeks old, and clearly loving her new life. Thanks to her dedicated mom, she was saved from an uncertain fate, and will now never have to worry about being lost and alone ever again.
Chelsea Toston
If you find an animal in need of help, just remember that it's often illegal to care for them unless you're licensed (house sparrows are an invasive species in the U.S. so Larry's an exception)! To find out what to do if you find a little Larry, click here.