Baby Bat Stays Cozy In A Little Sock While Her Broken Wrist Heals
Her name is Zyggi.
When they found the baby bat, she was clinging to her dead mom.
Sarah Curran
The mom had gotten electrocuted on electric wires in a suburb of Sydney, Australia. She'd dangled from the wires for several hours, but eventually dropped to the ground.
Bats (also known as flying foxes in Australia) are placental mammals who give birth to one baby - or pup - each year. The pups fully depend on their mothers for the first five weeks of their lives, so the mothers carry them wherever they go. But bats don't have special pouches to carry their babies in like marsupials do - the babies hold onto their moms by clamping their mouths around the moms' nipples ... and they hold on for dear life as their moms fly around!
Sarah Curran
Someone noticed the bat lying on the ground and called Sydney Wildlife, a rescue organization that cares for sick, injured and orphaned native Australian wildlife. When rescuers arrived at the scene, the baby still had her mouth around her mom's nipple, even though the mom had died hours ago.
"I picked [the baby bat] up, removed her very carefully off the mother's teat," Sarah Curran, a volunteer for Sydney Wildlife, told The Dodo. "Then I quickly attempted to substitute her mum's nipple with a bat-sized dummy, wrapped her securely, and let her gently warm up and settle down before doing a more thorough assessment once I was home."
Sarah Curran
Since the baby bat had been hanging onto her mom on the electric wires - probably for several hours - she was dehydrated and exhausted. Curran also noticed swelling and bleeding near the baby's wrist. First thing the next morning, she took her to the vet.
An x-ray showed that the baby bat - whom Curran had named Zyggi - had fractured her wrist.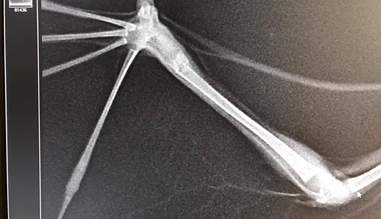 Sarah Curran
The vet bandaged Zyggi's wrist, and Curran wrapped it in a sock for extra support.
Sarah Curran
Then Curran bundled Zyggi up in a pink blanket. "We wrap them up in what we call 'mumma rolls,' which reflect Mums body, encased in her wings as would happen in the wild," she said.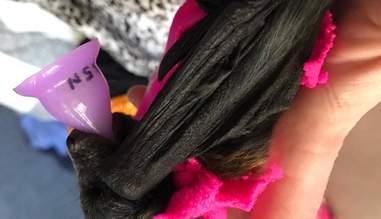 Sarah Curran
She also placed a pacifier in Zyggi's mouth to make the baby feel like she's sucking on her mother's nipple.
Sarah Curran
Zyggi's only been in Curran's care for about two weeks now, but she's already getting much better. Curran anticipates that Zyggi will make a full recovery, and be released into the wild once she's older and learns how to fly.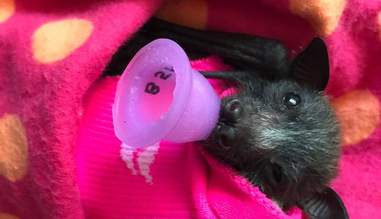 Sarah Curran
"She appears to be tolerating the treatment very well," Curran said. "She's also an excellent feeder, chows down a bottle like a Hoover!"
Sarah Curran
After Zyggi drinks her milk, she falls fast asleep. "She has the most vivid bat-dreams and squeaks and twitches like a little puppy," she said. "I love it when bats dream. They're all jerky limbs, twitchy noses, flickering eyes and adorable squeaks and grumbles."
While Curran is grateful to the person who called Sydney Wildlife about Zyggi and her mom, she warns that only licensed rescue professionals who have been vaccinated against Australian bat lyssavirus (which some bats carry) should rescue bats.
Sarah Curran
"Any bat by itself during the day, or unable to fly away when approached, is in serious trouble," Curran said. "But never handle a live bat. Always contact your local wildlife rescue group."
Each year, countless bats like Zyggi's mom are killed by electric wires. If you'd like to help save them, you can make a donation to Sydney Wildlife here.
You can also follow Zyggi's progress on Curran's Facebook page and Instagram page.