Chicken Who Spent Life In Cage Is Finally Learning To Walk
She was found on a road, alone and unable to walk.
Babs, who's around 3 months old, arrived at the Shamballa Wildlife Rescue in Woodville, Alabama, in early January.
"She fell out of a chicken truck, onto the road," April Russ, who founded the rescue alongside her husband, told The Dodo.
"I'm guessing from her size that she was on her way to the slaughterhouse," Russ said. She doesn't know how long Babs remained on road on her own, but eventually a couple driving by saw the young hen tumbling around on the ground.
They immediately stopped to help her and contacted Shamballa. While the rescue doesn't usually take in farm animals, Russ said, she decided to give Babs a chance, since she was an unusual case.
"Honestly, I didn't think she'd make it the first few days because she was just a pair of drumsticks and a head," Russ said. "She couldn't walk, she didn't know how to stand up and she'd never seen grass before. She was a bit traumatized. She would hide in dark corners."
She was also missing feathers from her belly and other parts of her body and had a twisted foot.
Shamballa believes that Babs was more than likely born and raised in a small cage on a meat farm, where she couldn't really move and was overfed constantly in order to fatten her up for consumption. Russ said it took awhile for Babs to overcome the fears that came with experiencing freedom for the first time in her life, and to become comfortable with with access to vast, open spaces.
But with a good diet, safety and love, Babs slowly but surely started to come around.
Babs soon got the hang of walking, though her feet are much larger than the average hen's so she waddles like a duck instead of strutting. Her feathers started to grow back in and the twist in her foot straightened out on its own.
"She's very gentle," Russ said. "She's like a pet now. She walks between my feet, hoping she can see me holding a piece of bread." Babs also has a friend now - another hen named Red whom she follows around "like a little sister."
"The two of them are always together," Russ said. "Red was very lonely at first [as the only rescue chicken around], but ever since I got Babs, they sleep together, they go grazing together, they walk around the house together."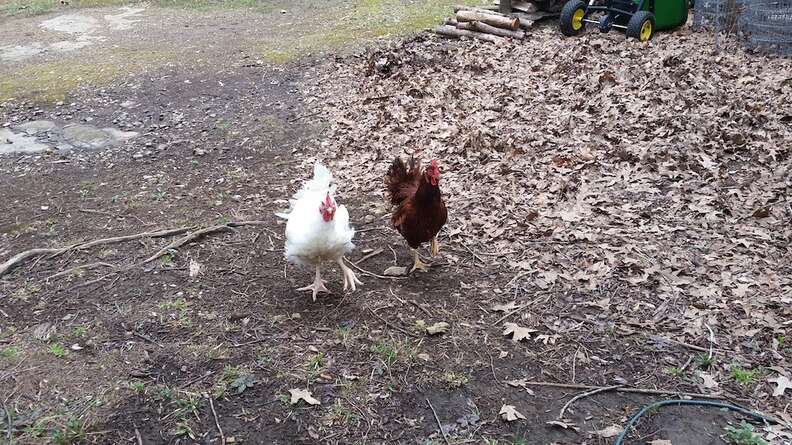 Russ said that, while Babs is still recovering from her past traumas, she's in much better shape than she was two months ago. She now has a new forever home at Shamballa, where her life will never be in danger again.
"We primarily handle wildlife," Russ said. "But wildlife, as much as I love them and raise them, I know it's not the right life for them, being in captivity." Russ said the perk of rescuing a chicken like Babs is that she can actually keep her and give her a good home.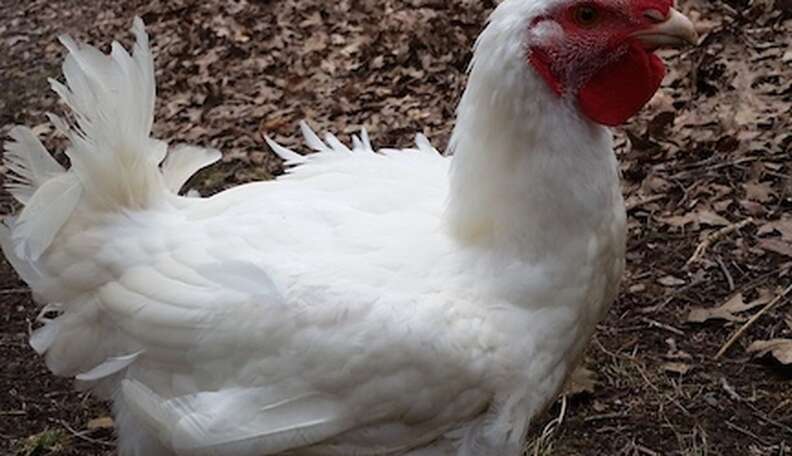 "She's really become a beloved pet," Russ said. "She is doing fantastic now."
Want to help animals like Babs? You can make a donation to Shamballa here.