Sometimes, life is just like a movie -- especially if you live on Richard Quiring's organic farm in British Columbia, where interspecies love rules the roost.
When one of Quiring's sows gave birth to a litter of 12 piglets, Sophie, the runt, was born just skin and bones, too weak to fight her siblings in order to suckle. In a moment of compassion, Quiring's son spared the little piglet -- but he didn't really rescue her. That fell to the family's dog, Duke.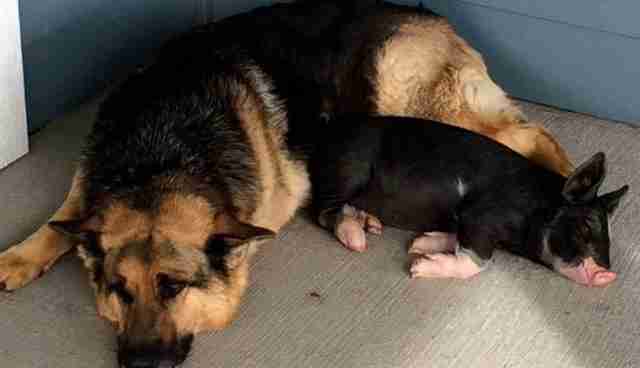 Within days, Quiring told the National Post, Duke -- a German Shepherd -- had formed an "unbreakable bond" with his adopted piglet, sharing meals with Sophie and helping nurse her back to health.
"Now Sophie has the run of the yard," Quiring said. "She doesn't go to the pasture where the other pigs are, she just stays in the yard and hangs out with Duke and enjoys her freedom and the sun."
Photos by Richard Quiring.