Awkward Laser Photo Helps Lost Ferret Find His Way Home
"We are lucky we have a chief that has a good sense of humor."
Frankie the ferret was brought to safety this week by Texas' Leander Police Department after being found wandering alone in a local park. Back at the station, the ferret quickly won over all the officers with his charming personality, but unfortunately, despite their best efforts, they were unable to find Frankie's rightful owner.
As is customary in such cases, officials wanted to alert the public on social media. Rather than just post a boring image of Frankie, however, they decided to get creative — with an intentionally awkward, '90s-style photo portrait, complete with a bodacious neon laser background so typical of the era.
The clever tribute isn't just adorable; it proved effective.
Leander Police Department
Less than a day after the Photoshopped picture of Frankie (held by police chief Greg Minton) was shared to Facebook, the lucky ferret was back home where he belongs. Turns out, enough people had shared the funny photo online that his worry-stricken family eventually caught wind of it as well.
"His owner saw the post on social media," a spokesperson for the Williamson County Regional Animal Shelter told The Dodo. "She came by, had photos and was able to identify a chipped tooth the ferret had!"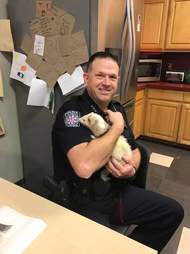 Leander Police Department
The extra effort to help Frankie be found clearly paid off.
"We are lucky we have a chief that has a good sense of humor," Jeff Hayes, assistant chief (and unofficial photographer), told The Dodo. "All the posts we do to return animals have a little humor mixed in, as it helps generate interest and spread the word."
Now that's some good police work!