There might have been a time when the sighting of a shark along the shore would've sent folks fleeing in fear. But recently it seems that attitudes toward these oft-maligned predators have taken a welcome turn.
Earlier this week, after a large blue shark became hopelessly stranded during high tide in Provincetown, Massachusetts, the reaction of the beach-going public wasn't to run to safety - rather, they rushed to her aid. A local harbormaster, Rex McKinsey, was among those who helped coordinate the effort to comfort the shark through her ordeal.
"There were a handful of people with buckets," McKinsey told The Dodo. "People who live nearby were bringing out pots and pans and things to help."
McKinsey contacted the Center for Coastal Studies (CCS), who advised that the best thing to do would be to drag the shark out to sea. As the kind-hearted rescuers were preparing to move her, however, an unusual new problem arose.
"By the time we got everything sorted, the animal had regurgitated her stomach, which is apparently a natural stress reaction," said McKinsey. "[CCS] told me, 'If you could ease the stomach back into the mouth, that would be good.' Well, that sounded pretty dangerous to do by hand, so a cane was employed."
After getting the shark's stomach back where it belongs inside her, a boat was brought in to shuttle her into the ocean by a rope tied around her tail. Once out beyond the waves, she was set loose - and sure enough, the shark seemed to swim away without much difficulty.
"It's been over 48 hours at this point, and we haven't seen her back on shore," McKinsey said. "I'm hopeful we won't."
Wikipedia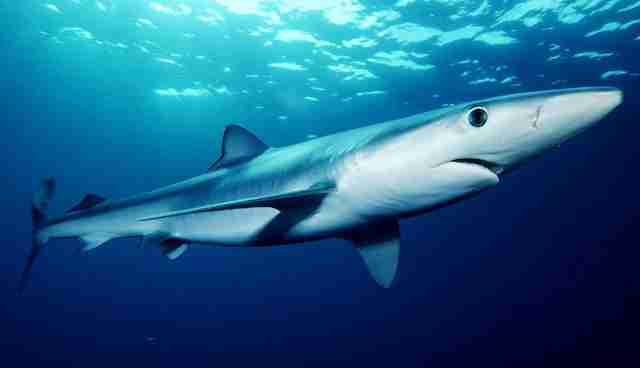 "Many, many thanks to the members of the public who worked to keep the shark as comfortable as possible while it was on the beach, and to Rex McKinsey and his colleagues at the Provincetown Harbormaster's Office for their assistance."
Excellent job to these truly awesome people!