Opponents of Western Australia's controversial shark cull are mounting a case against the practice, saying that it could violate several state and federal laws. The policy could counter the Wildlife Conservation Act as well as the Fish Resource Management Act, the Guardian reports.
In order for the cull to go forward, the environment minister, Greg Hunt, must first exempt the state of Western Australia from the Environmental Protection and Biodiversity Conservation Act -- a statute that requires a federal assessment to be made whenever endangered creatures may be put at risk. No word yet on whether Hunt will grant this exemption, but a spokesperson for his department told the Guardian, "The minister's decision will be announced in due course."
The cull, which involves using long lines with baited hooks to lure sharks closer to the beaches of Perth, was proposed as a way to decrease the number of shark attacks on humans -- a total of seven fatal attacks in the past three years. Sharks longer than 9 feet will be shot by patrol boats.
"It looks like this is has contravened international treaties to protect migratory species, as well as the EPBC Act and state laws," Lynn MacLaren, Australian Greens member told Guardian Australia. "We hope the government will realise its mistake, but if it doesn't we will be looking to get public support for the legal case, if we don't get pro-bono help."
MacLaren also called the cull an "ill-thought-through policy." Scuba divers have spoken out against the plan, saying that by drawing the sharks toward the beaches, it will actually increase the frequency of attacks on humans. And earlier this month, more than 4,000 people descended on Perth's beaches to protest the cull, calling it inhumane and pointing out that the lines will catch other marine life, not just sharks. This image, submitted to ABCby a protester, illustrated the frustration: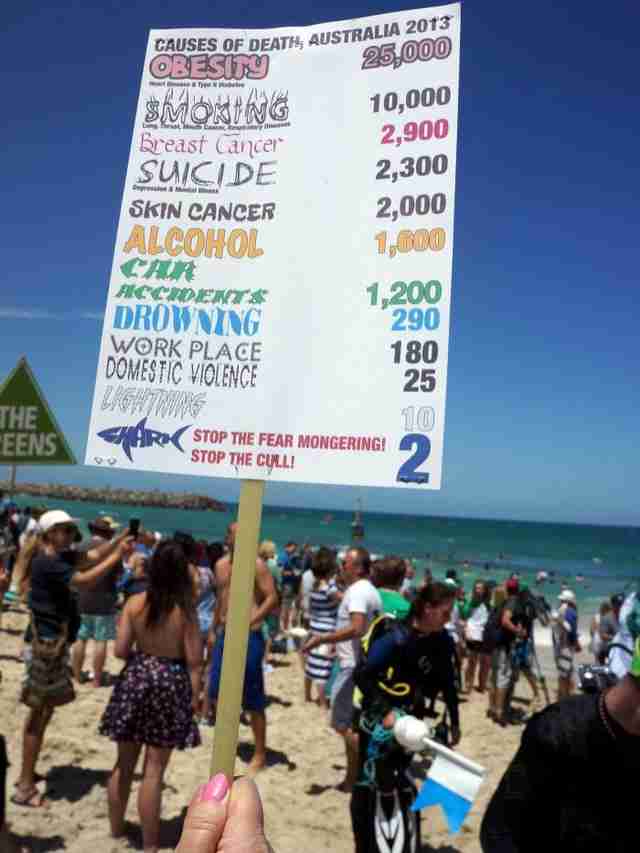 Sea Shepherd Australia managing director Jeff Hansen added that the cull isn't particularly well thought out. "When they kill a shark, they're going to dump the body out to sea, once again bringing in more sharks. If anything, it's going to make matters worse," he told ABC News. "A hundred shark experts and scientists wrote to the WA government and said this will not work."