Dog Chained Down In Junk Pile But Help Arrived In Nick Of Time
<p> PETA </p>
<p> PETA </p>
By Emily Allen At first, PETA fieldworker Heather Johnson thought the dog's leg was broken: Athena's tether was wrapped so tightly around her hind leg that it was painfully swollen. Heather had stopped by the home in rural North Carolina on one of her regular visits to the area to check on the beautiful Australian shepherd mix who was tied up in the backyard.
PETA
Athena is one of hundreds of "backyard dogs" PETA fieldworkers visit every week, delivering free doghouses and straw bedding to help them survive the winter cold; erecting tarps to shade them from the summer sun; refilling empty water bowls; treating them for fleas, flystrike, and internal parasites; and providing them with low-or no-cost spay/neuter surgeries as well as food, toys, and treats. Perhaps most important of all to these desperately lonely dogs, they also get plenty of scratches under the chin and reassurances that they're the very best dogs in the whole wide world.
PETA
PETA cares for neglected dogs who are left outside 24 hours a day, 365 days a year, in all weather extremes. Many of the remote, impoverished areas that PETA fieldworkers visit have no animal shelters - and some don't even have a veterinarian, which means that PETA's fleet of mobile low-cost spay/neuter clinics are the only veterinary service available for many.
PETA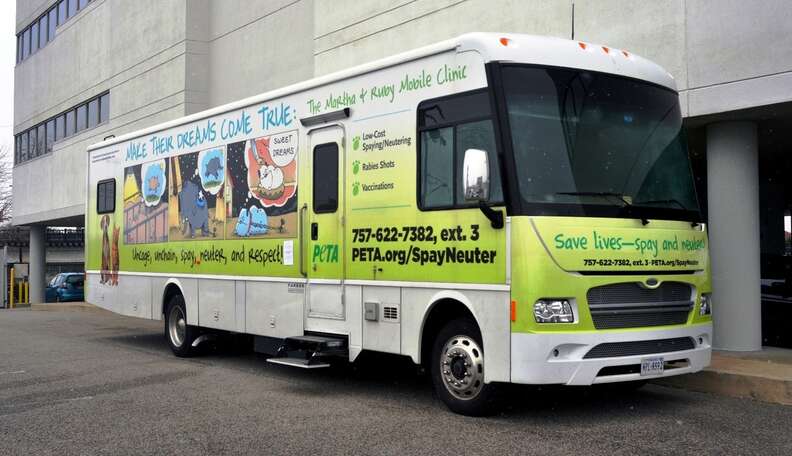 Fieldworkers often encounter horrific cases of neglect, including (WARNING: Graphic photo) dogs eaten alive by maggots or suffering from advanced heartworm disease, mange, deadly parvovirus, infected wounds, embedded collars, or even deliberate starvation. For some of the animals who are turned over to us, giving them a painless death through euthanasia is the kindest thing that anyone can do for them. We're proud to be able to provide this service, even though a meat-industry front group exploits this aspect of our work with its "PETA kills animals" scam.
PETA
It was immediately apparent that Athena needed much more than what's on the usual "chained-dog checklist." Her tether had become entangled in the piles of junk surrounding her doghouse, virtually immobilizing her. She couldn't reach food, water, or shade and was panting heavily in the blazing sun.
She had obviously been in this condition for some time - perhaps for days - as evidenced by her swollen leg. Heather gently freed her from the tangled rope but knew she needed veterinary care right away. Athena's owner, belatedly realizing that she was unable to care for the dog properly, surrendered her to PETA, and Heather rushed her to the closest veterinarian.
PETA
Thankfully, her leg wasn't broken, but it was severely infected, and she was in so much pain that she couldn't put any weight on it. She was also dehydrated and had a raging fever of 106 degrees, probably because of the infection and her prolonged inability to seek water and shelter from the sun. It was a miracle that Heather found her when she did: Athena probably wouldn't have survived much longer.
The vet prescribed antibiotics, and Heather took Athena back to PETA's Norfolk, Virginia, headquarters, the Sam Simon Center, to recuperate before transferring her to the Virginia Beach SPCA, a high-traffic open-admission shelter with which PETA frequently partners. We later learned that she was adopted by a Navy veteran through Pets for Patriots, a group that works with the SPCA to place animals with military service members.
Pets for Patriots, Inc.; all rights reserved
Athena's new guardian has aptly changed her name to Leia, which means "child of heaven"- perfect for a pup who apparently has angels watching over her.