After leading what had up until then been a presumably pizza-free life, one hungry little chipmunk caught on camera in Vermont had the occasion to diversify his diet of nuts and grubs with something a bit more exotic - his very own slice of pie.
It's unclear just how the jowly rodent came to acquire the cheese pizza there in the grass, but his satisfied expression and vigilant glances between bites suggests that he has no interest at all in sharing the find.
After getting his fill, the chipmunk then tries to scurry away - only to be pulled back again by the overwhelming desire for even more pizza.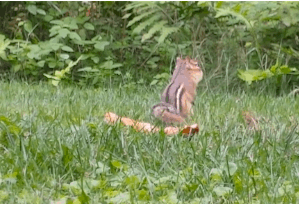 While a few nibbles of pizza crust won't do any real harm to chipmunks, it can be a major problem when they become accustomed to human food. The Humane Society advises that chipmunks and other wildlife should never be offered food handouts, as doing so can cause direct health problems, result in injury or fighting between animals, and create a safety risk for humans.
Check out the chipmunk's pizza pig-out in its entirety below: