Sure, historians might tell you that painters like da Vinci, Botticelli, Raphael, and Michelangelo are unrivaled in their mastery of form and technique, but there's one thing conspicuously absent in the works of most of these so-called Old Masters. I'm talking about cats. Where are the cats?
Thankfully, one Russian genius has devoted herself to ensuring that catless classical works of art can stave off irrelevance in this feline-enlightened age -- by reimagining them to include her chubby, ginger pet.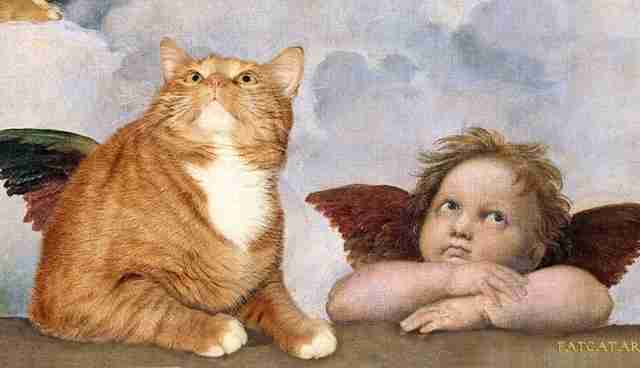 Artist Svetlana Petrova says that she was in a creative slump when a friend suggested that her cat, Zarathustra, would make an amusing muse.
"Zarathustra likes posing and is a really intelligent cat. He likes to lie on his back and make strange faces like he's speaking with somebody, so I began to take photos of him and inserted them into paintings," Petrova tells the BBC.
"I liked the result so I sent it to some friends, other artists and galleries. Everyone laughed so much, so I made a website, but then forgot about it because I had another project."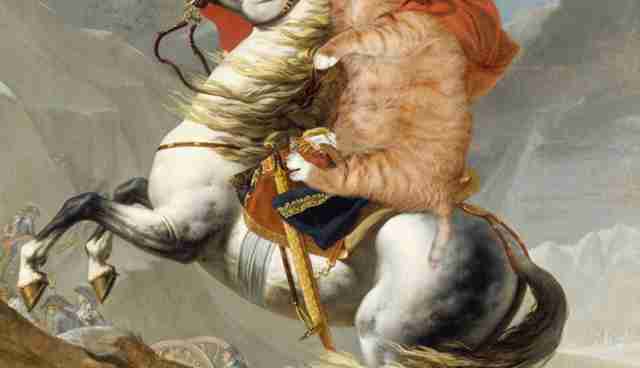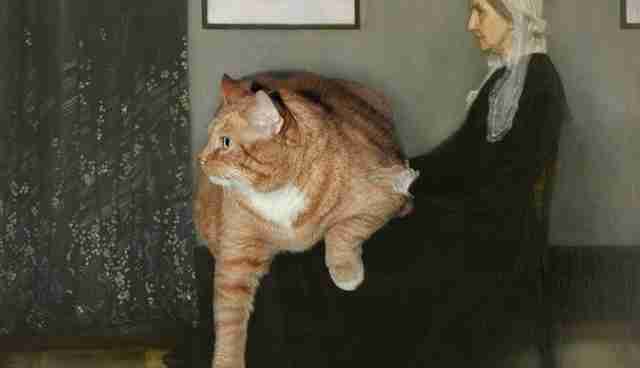 "I see his pose and imagine what painting he can enter, or I find a painting and try to make him play that role of the character I see in the painting," she says. "Sometimes it's a character in the original painting, sometimes it's an added character."
Petrova then takes a photograph and places her pet in each work digitally.
Not all her cat-infused paintings are classics, however. Here, Zarathustra takes a more modern turn:
"People usually think art is something they cannot touch, but there is a lot of art in the viral internet world - like internet memes. There is a new trend and generation of artists and critics thinking about it," says Petrova, explaining how the painting with cats added can actually be superior to the originals.
"For me it was a possibility to create something that is beautiful and make people investigate something new and interesting, and try and create some art themselves. Digital technology gives people the opportunity to make art and museums should be more attentive to it."
Check out FatCat.Ru for more of Petrova's wonderful works of art.