'Cows Aren't Animals' Bill Is Seriously Not A Joke
<p> <a href="https://www.flickr.com/photos/infomastern/10463406864/in/photolist-gWBGjC-8G2jaZ-nGNwBG-aNz5F6-4E7ydW-axrBrL-fsh25x-bLmYfk-6k3mZP-arcJYC-bsQYbb-dwojvp-6qTbjN-g2uiDk-6qTcmb-6qT7HJ-6qNUW4-asdNKY-a5RgPR-fib3Bm-6qT4Y7-dLc1zq-o4Jupw-beYJdx-9i7m4f-5Y9xxE-cbfyqQ-hoHhLY-6pg7Pc-59Xe7E-8EbYCe-cjdKwN-6mdPGz-nT5WaN-fZU21e-qffiYC-8FZVFa-dC3G87-dbhCdf-6qTbxu-7EQHbR-2spGD9-5tAgEk-mQGtGu-3Lnpdy-4aCMuv-dLbZPC-oDTKNQ-j9sV1S-6qT6AW">Flickr/Susanne Nilsson</a><span></span><br> </p>
Horses, cows and chickens aren't animals under a controversial new bill that's on its way to becoming law.
The Arizona bill would deny the state's farm animals protection under standard anti-cruelty laws by classifying them as "livestock" instead of "animals." Despite vocal opposition from animal welfare groups, the bill passed the Senate on Monday and is on the desk of Gov. Doug Ducey.
The measure also weakens the penalties for some forms of animal abuse against "livestock" and omits protections for abandonment and medical abandonment, meaning sick and suffering animals could be denied medical treatment without repercussions for their owners.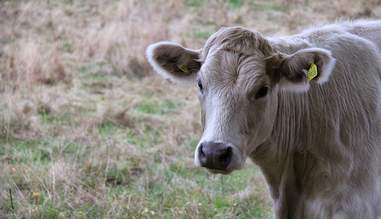 While the bill was ostensibly introduced to strengthen penalties for cat and dog hoarding, animal welfare groups have argued it's a wolf in sheep's clothing. For example, the bill prohibits local governments from enacting further protections for livestock animals, though it explicitly permits them to do so for cats and dogs.
Arizona Sen. John Kavanagh (R-Fountain Hills), a proponent of animal welfare and former cop, told the Phoenix New Times that he was concerned by the bill's requirement that police investigations of animal abuse cases be brought to the state's department of agriculture.
"[It] requires police officers who are investigating livestock abuse to notify civilians in the Department of Agriculture, thereby potentially compromising ongoing investigations - or should I say, investigations that never get started," he told the Phoenix New Times. "No other area of law enforcement requires such an outside notification."
The bill is an even sneakier arm of the ag-gag movement, Anita Carswell, of In Defense of Animals, told The Dodo last week. Carswell, who called the bill "ridiculous," said that as the public becomes increasingly resistant to ag-gag legislation that makes it illegal for whistleblowers to photograph abuse, the farming lobby is trying to make penalties for abuse less severe instead.
"It's saying that animals that get eaten aren't really animals," she said. "How people feel about animals aside, it's how animals feel about what happens to them that matters."
The animal welfare organization Compassion Over Killing, which is also fighting the bill, is asking Arizona residents to help by calling Gov. Ducey at (602) 542-4331 and asking him to veto HB 2150.