Argentine Zoo Refuses To Relocate "World's Saddest Animal," Despite 600,000 Signatures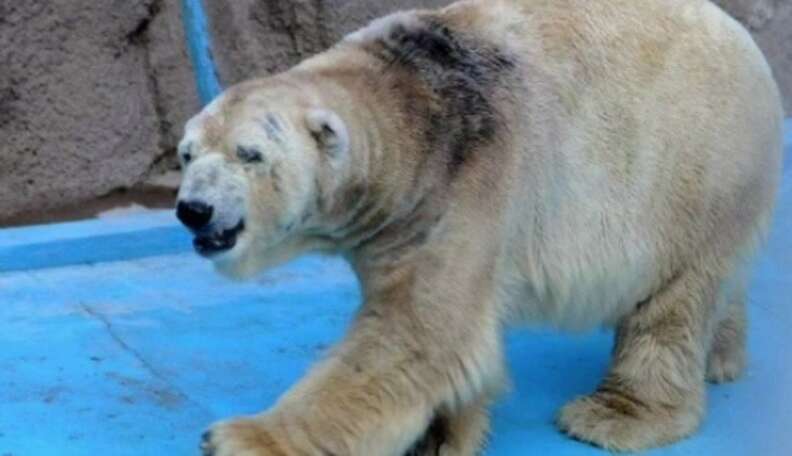 Despite international media attention and a petition that has gained nearly 600,000 signatures, the director of a zoo in Argentina that houses the "world's saddest animal" is refusing to relocate him.
Arturo, a polar bear who's been confined at a zoo in the western city of Mendoza for the last 20 years, was the subject of a massive push to remove him to Canada's Assiniboine Park Conservancy where he could live out his days closer to his natural home, a much more fitting residence than Argentina, where temperatures can reach over 100 degrees Fahrenheit. Arturo suffers from visible psychosis and now lives alone, after another bear at the zoo died two years ago.
Now, zoo director Gustavo Pronotto told the AP that despite the calls, Arturo will not be moved. What's worse, he asked that Arturo's concerned advocates "stop bothering the bear" -- an ironic statement, seeing as it's probably pretty bothersome to live in Argentina if you're a polar bear.
This may seem to be a setback, but public opinion is only growing stronger. Go here to add your name to the list of people calling for Arturo to be moved.
[rebelmouse-campaign #SendArturoHome title="Add your voice: tell Mendoza Zoo to relocate Arturo." theme="sidebar" total="supporters have added their voice." cta="Sign Now" pastCta="Signed" sendButton="Sign" why="Add your voice: tell Mendoza Zoo to relocate Arturo." addPost="Post Now!" shareText="Join @dodo and me in calling on the Mendoza Zoo to relocate Arturo the polar bear #SendArturoHome {{link}}"]