Dog movies are great. Aren't they? Didn't you love it when Dodger looks like some hot shit strolling around the streets of New York?
And how about when Uggie reminded us how good dogs look in black and white?
What about that scene where the dogs make a twilight bark in "101 Dalmatians"? Or when Airbud plays the saddest game of fetch in the history of film. Those movies are the best. Let's watch those movies, and admire those pups - but let's also remember that it takes more than wanting a dog to be ready to bring a dog home.
The fact is, some people love these dogs so much, they want the exact breed they saw in the movie. If you don't believe me, check out this Yahoo! Answers page on which a person asks "What kinda dog is marley and me?" He follows up with: "& is anyone selling one?? I want one for christmas :)"
Check out this beautiful Malinois.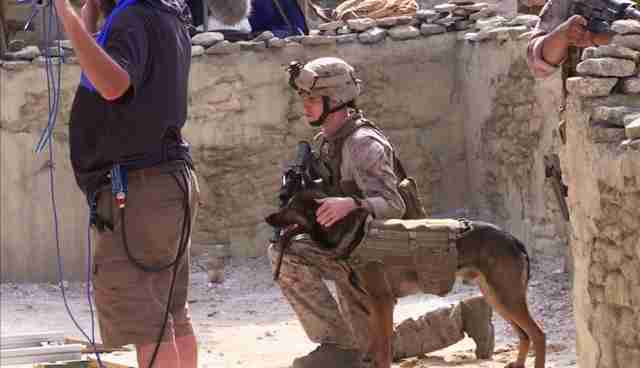 It's a film about a veteran dog who comes home after serving in Afghanistan. Imagine Lassie with military gear and training. By the looks of the trailer, it could be a film about the emotional scars of war which a dog unbelievably overcomes or a movie about a no-frills American badass dog. Based on Warner Bros' aim to a family market, I still have no clue. Do you?
Want a Malinois of your own? Are you sure?
A Malinois is not for the inexperienced dog owner. They're notoriously high-energy dogs who require a lot of attention and training in order to be happy and healthy with a human.
In this video, a Malinois dog swims around a pool and bobs for a ball that he'll never be able to fit in his mouth ... for 45 minutes.
This Malinois dog owner asks prospective Malinois owners whether they're ready for that commitment.
Watch the full video here.
If you don't think that a Malinois requires high amounts of exercise, consult this behind-the-scenes video, in which a Malinois jumps over a wall like it's no big deal.
Are you ready to own a dog? Any dog?
Think of all the onscreen dog moments that have enamored you. When the Taco Bell Dog gives the orders to "drop the chalupa." Or when Beethoven saves young Emily from drowning as her babysitter plays piano. How about that time that Tom Hanks woke up next to a smelly Hooch? What makes these movies great is how they remind us of the beautiful relationships that can form between humans and dogs.
You should always think carefully about the commitment of owning a dog. It's a huge responsibility. If you see "Max," think twice or maybe three times before you go out to buy a Malinois. They can be awesome pets, but only if you're a dedicated caretaker. And with so many dogs in shelters, why not rescue instead?
The truth is, that for every pet fad out there, there are thousands of dogs who eventually end up homeless. By 2009, for example, Chihuahuas - popularized by movies, like "Legally Blonde" - made up 30 percent of dogs in California shelters.
Not ready for that Malinois? No worries! Perhaps you're better suited to care for whatever species Spike was.
CORRECTION: A previous version of this article stated that "Oliver looks like some hot shit strolling around the streets of New York." The dog in the picture is Dodger, voiced by Billy Joel.