Heroes Are An Endangered Species: A Conservation Epic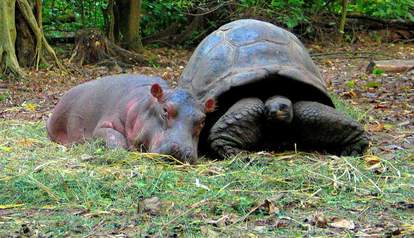 This is the story behind Orlando von Einsiedel's groundbreaking new documentary, Virunga, which debuts on Netflix today.
We all meet heroes in our lives. Sometimes we just don't recognize them at the time. Today Al Jazeera journalist Peter Greste is sitting in a Cairo prison cell, convicted by an Egyptian court, incomprehensibly, as a terrorist sympathizer for interviewing members of the Muslim Brotherhood. Emmanuel De Merode, Chief Warden of Virunga National Park, survived an assassination attempt in April in the Democratic Republic of Congo.
He managed to survive four bullets in the stomach the day before the world premier at the Tribeca Film Festival of the documentary Virunga that will be released directly on Netflix on November 7. In this extraordinary film De Merode stands up to corrupt government and corporate interests as well as the armed rebels whose activities are threatening the survival of the park and its denizens, the world's largest remaining group of mountain gorillas. All of these groups wanted De Merode dead.
What could I possibly have in common with these two men? We all worked together on a children's book, of all things, in the wake of the horrific Gorilla Massacre in June of 2007. But independently Peter and Emmanuel have gone on to become unlikely international heroes for other exploits. Peter has been a journalist and war correspondent for the BBC and then Al Jazeera covering some of the world's deadliest conflicts. Emmanuel has been responsible for protecting Virunga's mountain gorillas and is the highest ranking custodian of this world heritage site.
In 2007, the world's remaining population of mountain gorillas numbered 720 in total. At that time famed anthropologist and conservationist Richard Leakey, also Emmanuel's father-in-law, was not sanguine about the prospects for survival of the mountain gorilla species. He thought that they might only have five years before their numbers were to small to sustain the genetic diversity necessary for proper propagation of the species.
I was inspired to write this entry as I recently came across one of my photos of the two of them standing together in Virunga National Park about to set off on a trek to find the mountain gorillas. At the time I certainly had no idea what was in store for either of them. Fate has led them down very separate paths, both thrust onto the world stage.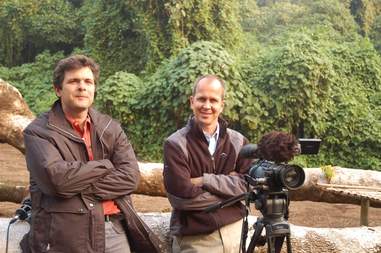 Emmanuel De Merode (l) and Peter Greste (r) working together On "Looking for Miza" for the Clinton Global Initiative in 2007
Both humble, quiet men, they were part of Clinton Global Initiative commitment whose centerpiece was a children's book entitled "Looking for Miza," (which I co-authored with my young daughters) published by Scholastic Books. Peter was the photographer and Emmanuel led the photo expedition into the depths of Virunga's lush green vegetation.
Simply entitled "Virunga Mountain Gorilla Protection Project," the goal of this CGI commitment was to raise awareness of the plight of the gorillas who are 98 percent genetically identical to humans. A lot of bold face names helped in the campaign ranging from President Bill Clinton to Anderson Cooper to Jack Hanna. We even held a national webcast, a Kid's Gorilla Summit, that featured Richard Leakey watched by over a million students. Leakey had almost single-handedly brought the illegal ivory trade to a halt back in the 1990s. Moderated by Global Philanthropy Group's Trevor Neilson, I vividly remember Richard answering one of the young student's questions at the summit "why was [it] so important to save the mountain gorillas?" In his eloquent British-Kenyan accent, Richard simply responded, "if we can't save the mountain gorillas... or the rhinos for that matter... then as humans what damn good are we? What damn good are we?"
On the far left, Peter Greste with President Clinton.
As Shakespeare tells us greatness is a funny thing: "some are born great, some achieve greatness and some have it thrust upon them. " Peter and Emmanuel have achieved greatness on their own. Both seemed like pretty regular guys, albeit with a high degree of passion for what they do. Emmanuel, I would find out quite recently,is actually Belgian royalty and technically a prince; I never would have guessed that at the time. But I highly doubt that his royalty caused greatness being thrust upon him. From my perspective these two men are ordinary people who have done extraordinary things that demonstrate inordinate courage, the courage it takes to change the world.
I have been writing children's books for the last 12 years or so years as a family project along with my daughters Isabella and Juliana. It has turned out to be a very significant hobby! We have now published a dozen books with Scholastic. The collection has become a best-selling series of non-fiction children's books about young animals and their remarkable stories. All these animal endure real-life traumas and demonstrate resilience. Their amazing stories have inspired millions of kids. The first book, "Owen & Mzee" (2005), most unexpectedly became a New York Times number one best-seller. Who knew? Certainly not me.
I met Peter Greste shortly after the Asian tsunami in December 2004. He had snapped a photo of a baby hippo snuggling with a giant Aldabran tortoise. This photo is arguably the most famous inter-species photograph: it would become the cover of "Owen & Mzee." Peter took hundreds of photos and wrote, directed and shot a 30 minute documentary about this near-fable of this odd couple: a 600-pound hippo raised for two years by a 700-pound 130-year old grumpy tortoise. Peter lived with my family during the editing process.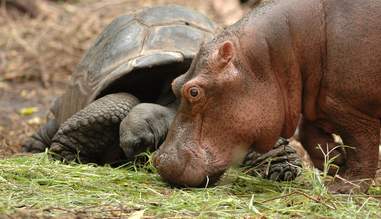 Owen and Mzee. (Photo: Peter Greste)
Peter, an Australian, is now best known around the world as one of the "Al Jazeera 3" arrested in December, for doing, well, their jobs as reporters. The three reporters plight has become a cause célèbre around the globe for freedom of the press. Peter has taken a very defiant position during his nine-month imprisonment, calling attention to this travesty of justice that impacts reporters everywhere. He has even smuggled out letters through his family that harshly criticizes his captors that have been made public by his family.
(Above) Peter Greste was very vocal and critical of the judicial proceedings during his trial; (below) The Al Jazeera 3.
Given the unexpected success of "Owen & Mzee" in 2007 I asked Peter if he would work on another children's book-if we could find the right story to tell - in the wake of the Gorilla Massacres just after the July 2007 Gorilla Massacres. We had gotten word of a number of orphaned gorillas whose mothers had been shot in the massacre. Emmanuel and his organization Wildlife Direct founded by Richard Leakey had worked closely with all of the park Rangers in Virunga. Emmanuel and several ICCN park rangers agreed to lead Peter and a group deep into park to see if they could locate any of the orphans. Virunga had suddenly become the heart of darkness: poachers, warlords and impoverished people who just needed charcoal to cook are disturbing the delicate balance of a fragile ecosystem.
Shortly after the massacre the ICCN Park Rangers discovered that one little gorilla named Miza was missing; the rangers knew every gorilla by name, or more specifically, by their nosepints which is how they can identify and track the various gorillas. But even more worrisome was that suddenly Miza's father, the legendary silver back Kabarizi, was also missing. As it turned out, Kabirizi had left his troop of 27 gorillas for four days only to reappear with little Miza. If we could get photos of Miza and Kabirizi it could make a spectacular children's books.
Emmanuel, Peter, Dr. Paula Kahumbu, (now one of the world's most effective champions for endangered species), and a team of the ICCN Park Rangers, embarked toward Mount Mikeno in Virunga. There, Peter was able to shoot some 600 remarkable photos for us, including pictures of Miza, her family, and several stunning photos of her elusive father, Kabirizi.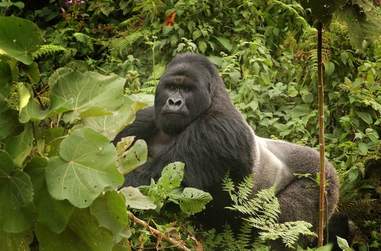 Kabirizi, silver back of largest troop of mountain gorillas in Virunga National Park in 2007. (Photo: Peter Greste)
The story behind Virunga continues in the next installation here. You can also learn more about Miza at miza.com.