Sometimes, somebody has the kind of laugh that makes us all join the chorus.
Maybe it's a contagious cackle that sets the whole room alight. Or a howl of such unabashed hilarity it causes everyone to promptly lose it.
But what if it's a bizarre laugh-like sound emanating from the throat of an arctic fox?
Should the whole world really be laughing along?
Because, honestly, we don't know what to make of this 18-second clip of Archer the fox posted to social media this week - aside from his unfortunate status as an exotic pet.
Within 24 hours, the video racked up more than a million views.
"I seriously need to lay off the coffee because I could have swore that I just saw a dog laughing," one Facebook observer declared.
No, it's not you. That laugh - that fit of full-bodied glee - sounds uncannily human.
But is it a classic case of humans putting a little too much of themselves into animals?
"Remember, all the emotional states we assign to animals are really analogs to emotional states of beings we don't really completely understand," animal behaviorist Jim Crosby tells The Dodo.
While it may sound like laughter to human ears, it could be any of a wide range of sounds that animals, particularly members of the Canidae family - dogs, wolves, foxes, jackals, etc. - are capable of making.
"Canidae have a lot of vocalizations," Crosby explains. "After all, we have the 'laughing hyena.' So who's to say this isn't analog to our laughter? He seems to be having fun."
And that's the most vital distinction here. An animal who looks like he's having fun may make sounds - and those sounds might fairly be considered sounds of joy.
Or, as we humans like to say, laughter.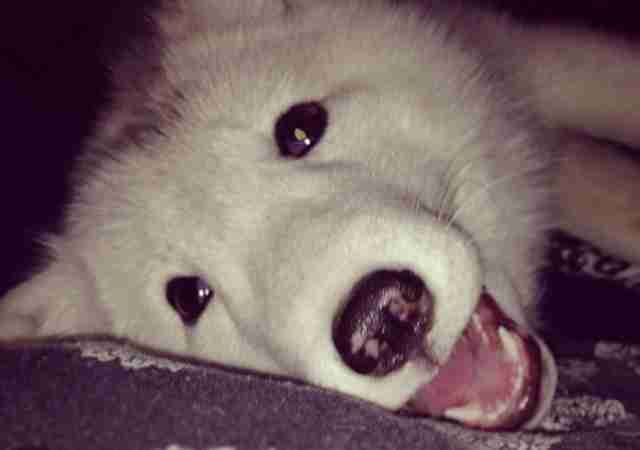 "I think 'laughter' is probably the closest behavior that we might approximate for this," Rob Halpin of MSPCA-Angell tells The Dodo. "But of course we'd be anthropomorphizing to a significant degree because laughter, as far as we know, is a distinctly human behavior."
Happiness, however, appears to be universal.
"One only need to see the video of the crow skiing down an English rooftop on a plastic lid," he says "Or this fox to realize that what they are experiencing is joy.
"I always thinks it's risky promoting exotics being treated as domestic except in rare circumstances to educate," Dianna Helmers, founder of Agape Fosters, tells The Dodo.
In the past, she has kept exotic animals at her Iowa property, but in a large, rural setting. In most cases, she notes, animals like the arctic fox deserve to be in their native habitat.
If Archer's laughing mug teaches us anything, it shouldn't be that we must all have adorable arctic foxes - which will inevitably give rise to dubious breeding operations - but rather that animals share a lot of human qualities.
Which is why they deserve to be happy too.