Shelter Dog With Nine Lives Survives Highway Crash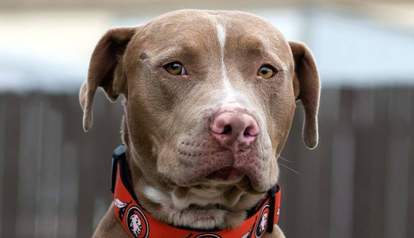 <p>Alberta Animal Rescue Crew Society / Inga Morozoff Photography</p>
He's only been in Canada for a few weeks, but Donovan the rescue dog has already survived more than his fair share of life-threatening events. While making an international journey to an adoption event, this pit bull mix was involved in two highway accidents, and spent nearly a week frightened and alone in unfamiliar farmland.
"We call him 'The Cat' because he has nine lives," Deanna Thompson of the Alberta Animal Rescue Crew Society tells The Dodo.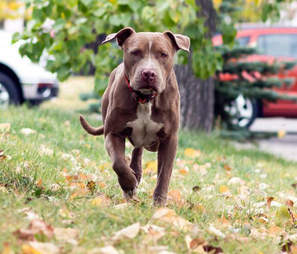 Donovan's journey began when another Canadian rescue group, Saskatchewan-based Adopt A Paw Pet Haven, sprung him and 29 other dogs from a shelter in California, intending to drive the dogs to an adoption event in Edmonton, Alberta.
The trip ended tragically on September 13, just 135 miles south of Edmonton. The trailer hauling the dogs flipped on the highway near the small town of Olds, Alberta. Many of the animals and the two women who were transporting them were hurt in the crash. Two dogs died at the scene, and the fatality count eventually rose to four. Donovan and seven other dogs ran from the crash, scattering into nearby farmland.
In the aftermath of the crash, the Alberta Animal Rescue Crew Society and other rescue organizations worked around the clock, moving the injured animals to vet clinics and searching for Donovan and the others who were still missing. Six of those dogs were quickly located, but Donovan and a chihuahua mix named Jerry remained at large.
This digital missing poster for Jerry and Donovan was shared on social media. (Facebook: AARCS)
The day after the crash an animal rescue volunteer spotted Donovan along the highway, but before anyone could reach the dog he ran onto the highway and was hit by a car.
"One of the people that was helping to look for him actually saw it happen," explains Thompson. "The person who hit him stopped as well."
His would-be rescuers watched helplessly as a terrified Donovan bolted from his second motor vehicle accident in just two days.
"After he was hit he rolled and then ran straight into a field. We searched the field but he was so close to the same color as the field that we had a hard time spotting him," says Thompson.
Five cold Alberta nights went by before a frightened Donovan was finally captured in a humane dog trap.
"We couldn't believe he was even alive," Thompson told The Dodo. "We took him to the vet, and aside from a few bruises and scrapes, he's doing fine."
The other missing dog, Jerry, was also recovered. Jerry is in the care of another organization, EJ rescue, and will require more medical help than Donovan, who is now adjusting to life in his Canadian foster home.
"You wouldn't believe this was the same scared and timid dog from a couple of weeks ago, who was lost in the wheat fields of Central Alberta," says Thompson.
"He is a gentle boy that needs some help working on his confidence, especially around men," Thompson tells The Dodo, adding that Donovan deserves the best after what he's been through.
(Facebook: AARCS/Inga Morozoff Photography)
While his handsome face has earned him many Facebook fans Donovan still doesn't have what he came to Canada for in the first place - a forever home. He's had two foster homes since he was rescued, and while he is making progress, AARCS is still looking for the right family for this dog with nine lives.