Manatee's Protected Species Status In Danger Because Of A Libertarian Boat Group
<p class="media-headline"><strong style="background-color: initial;">Ahodges7 - Wikimedia Commons</strong></p>
The West Indian manatee has been a protected species in Florida since 1967, and an endangered animal since the Endangered Species Act of 1973. Now thanks to a petition and lawsuit by the conservative libertarian group the Pacific Legal Foundation (PLF), all that could change.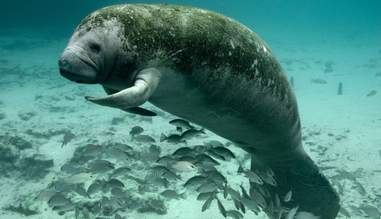 The PLF is urging the U.S. Fish and Wildlife Service (FWS) to downgrade the manatee's status to threatened, thereby loosening the restrictions on the water inhabited by the manatee.
The PLF is representing an organization called Save Crystal River, who acts as an environmental group but based on their website is more concerned with promoting recreational water-based pastimes that have been limited by the Endangered Species Act.
"Traditional enjoyment of Florida's natural resources and waterways have been vital historic components of our community," the Save Crystal River site says, boasting that everything from fishing to paddle boating are part of the "valued Florida-wide recreational lifestyle."
If the organization can convince the FWS to downgrade the manatee's protected status, they will be able to open up the river to new areas of exploitation.
Last week, the FWS agreed to evaluate the situation and rule on changing the manatee's listing. They will be reviewing scientific information, as well as talking to local residents in the area, and will announce their decision in the next 12 months.
Opening up the river could spell disaster for the manatee, which suffered a "positively awful" 2013 in which 829 manatees died in Florida, according to Scientific American. And already in the first six months of 2014, 218 manatees have died in the state -- and Scientific American says "the majority of this year's deaths to date were caused by watercraft" since the slow-moving sea cows are often struck by speedboats and the like.
All eyes will be on this case to see what FWS decides as other groups looking to expand commerce and recreational activity in protected areas could use this ruling to their advantage.