Captive Sea Lions Perform In Mall With Dark History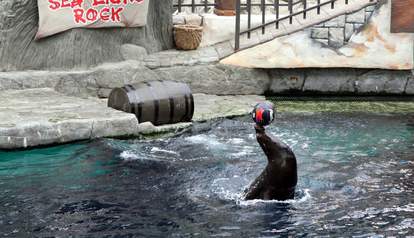 <p>https://flic.kr/p/LZH67</p>
At West Edmonton Mall in Alberta, Canada, shoppers can buy almost anything - including a swim with the California sea lions who've lived inside the mega-mall for years. Known locally as West Ed, it's one of the biggest malls in North America. It houses an amusement park, a hotel and an ice skating rink. And it's also an accredited zoo with a long history of using captive marine mammals to entertain shoppers.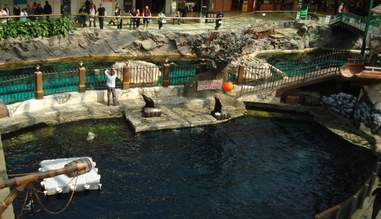 "It's regressive," Julie Woodyer, Campaigns Director for Zoocheck Canada, tells The Dodo. "It's something you would have expected to see in the fifties or sixties."
Or the eighties, when West Edmonton Mall was built. It was 1985 when four Atlantic bottlenose dolphins were captured off the coast of Florida and brought to the newly built shopping center in landlocked Edmonton. For decades animal rights group A Voice For Animals criticized the practice. Over the years multiple dolphin calves died in the mall. The adult dolphins started dying in 2000, and by 2003 only one lone male remained. The last dolphin to swim in West Edmonton Mall, Howard, left Edmonton in 2004. He died almost a year later at Theater of the Sea marine mammal park in Florida.
Not long after Howard became mall history, the marine habitat's new stars arrived. Dolphins' Cove became Sea Lions' Rock - and Pablo, Clara and Kelpie were at the center of a new mid-mall act.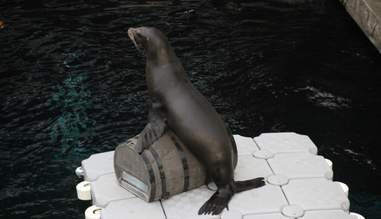 "We pushed so hard to get the last dolphin out of there," says Woodyer. "You can imagine how upsetting it was to hear they were bringing in pinnipeds."
"It's like bashing your head against the wall, dealing with West Edmonton Mall," Tove Reece, Executive Director of A Voice For Animals, tells The Dodo.
The Edmonton-based animal rights group continued to campaign against WEM as the trio of California sea lions were brought to the mall in 2004. The animals came from the Blair Drummond Safari Park in the UK, where they were born. A fourth sea lion never even made it to Edmonton.
"These animals were brought in from Scotland and one died on route," Reece tells The Dodo. "An animal rights group from England let us know. It didn't make it through Heathrow."
For the mall, the switch from cetaceans to pinnipeds proved popular enough, and in 2008 the newest sea lion, Quinty, arrived at the mega-mall from Amsterdam's Artis Royal Zoo, bringing the mall's pinniped population up to four. That same year, West Ed announced that sea lion lovers could move out of the spectator seats and into the pool as it began allowing people to pay for a swim with the sea lions.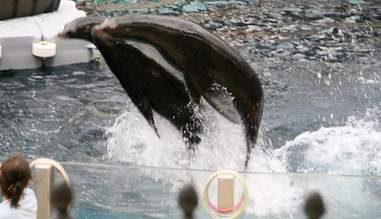 Despite some initial controversy over the up-close attraction, mall-goers have been forking over hundreds of dollars for a session with the sea lions for six years now. For about three hundred dollars shoppers can become a "Trainer For A Day". The day lasts six hours, and in addition to being towed around the pool by a heavy and powerful sea lion, these wannabe trainers go behind-the-scenes with the animal trainers to experience the mall's other marine life, including penguins, reptiles, amphibians, invertebrates, sea turtles and sharks. A one-hour session costs half the price, and still includes swimming with a sea lion and posing for hug-and-kiss photos with animals that can weigh up to 700 lbs.
(Flickr:MattClare) Unknown person is towed by sea lion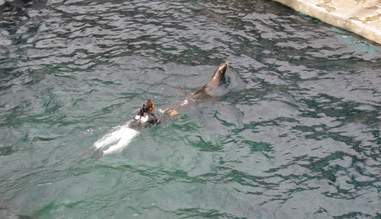 "It is a disaster waiting to happen and I'm appalled," says Woodyer. "They can certainly do a lot of damage and they could kill somebody. It's hard to believe it's a CAZA-accredited facility."
The accreditation reports compiled by Canada's Accredited Zoos and Aquariums (CAZA) are not publicly available, but according to Associate Director Greg Tarry, the organization does have policies in place to provide guidance to CAZA members regarding their use of animals in contact situations or programs.
"As far as animals interacting directly with the public goes, nowadays that is a very common part of most zoo and aquarium operations," Tarry wrote in response to an email inquiry.
West Edmonton Mall also provided a statement when approached for this piece. According to WEM, the mall's Marine Life Department is committed to providing educational and conservation programs that enhance the experience of its guests.
"West Edmonton Mall has the ability to reach out to non-traditional zoo audiences through our exhibits and our animal outreach programs, bringing vital information about animals to many people who do not frequent zoos."
According to National Geographic, California sea lions are the fastest of all sea lions and seals, reaching top speeds of 25 miles or (40 kilometers) per hour. In the wild, these animals may hunt continuously for 30 hours. The sea lions at West Edmonton Mall do not need to hunt or reach their top speeds - all four were born in captivity.
West Edmonton Mall management believes the sea lion shows educate shoppers - but not all shoppers want to witness animals in captivity. If you believe a mall is not a biologically or ethically appropriate habitat for sea lions, let West Edmonton Mall know by writing to marinelife@wem.ca.