This Never Should Have Been Her Home
It was a house of good intentions gone to hell.
Earlier this month, The Dodo wrote about an animal shelter in Tennessee that had become so overburdened with animals that it desperately needed its own rescue.
One of the dogs found at the Tennessee rescue.Amiee Stubbs
One of the dogs found at the Tennessee rescue.

| Amiee Stubbs
Animals were found crammed into crates throughout the property. There were makeshift homes in bathtubs and closets and anywhere a dog could eke out a precious inch of space.
Others were locked in cages that had long ceased to open.
"I [found] cages that were rusted so shut, I had to bang them with a hammer to open them," Scotlund Haisley of Animal Rescue Corps (ARC) told The Dodo at the time.
Locked in tight.Amiee Stubbs
Locked in tight.

| Amiee Stubbs
Around 35 dogs were found living in the garage alone.
In all, more than 80 dogs, in various states of suffering, were pulled from the dilapidated house.
Since then those tides of despair have turned into the happiest tidings: Dozens of dogs have found real homes.
Among them? A dog named Apple.
AppleAmiee Stubbs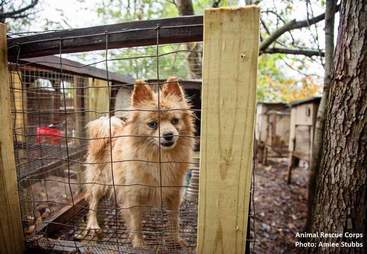 Apple

| Amiee Stubbs
Just weeks ago, she was living in a crate on the property and suffering from heartworm disease.
It turns out, she likes to snuggle.
Apple warms up to her new digs.South Suburban Humane Society
Apple warms up to her new digs.

| South Suburban Humane Society
Today, Apple has a foster mom - just like dozens of other dogs from that house in Tennessee and other rescues.
More than 200 animals in all, according to ARC - a number that was bolstered by other rescues in the region.
Amiee Stubbs
Amiee Stubbs
"The shelter is now spotless, the equipment cleaned and put away, and an awesome team is heading home after more than a month for some deserved rest," the organization wrote on its Facebook page.
Humans did it.
Good humans.
If you would like to help Animal Rescue Corps, please visit the website.