Most Adorable Dog In The World Needs Someone Who Understands Anxiety
A shelter is never the ideal place for a dog - but for Brownie, being at a warm shelter with the promise of adoption is probably the best thing that has ever happened to him.
Mark Boyer
Brownie, an 8-year-old chow mix, spent most of his life tied up outside with his best dog friend in deplorable conditions. Their former owner finally decided to "get rid of them," and they were in such bad shape when they arrived at Pima Animal Care in Tucson, Arizona, that Brownie's best friend didn't make it.
After losing his best friend, Brownie went into shock. He laid on the floor all day refusing to move for anything - almost as if he had given up. Slowly though, he realized he was in a safe place and became very, very affectionate.
With such hardships in only 8 years of life, it's no wonder that sweet Brownie is a little on the anxious side.
Mark Boyer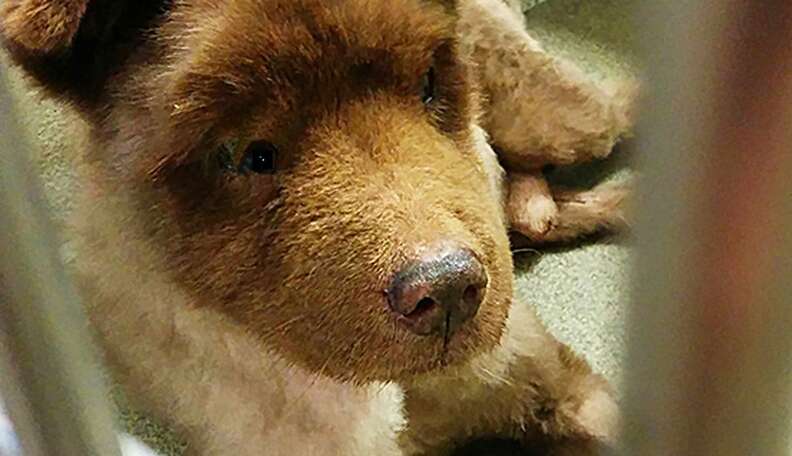 Being as super adorable as he is, Brownie found a home pretty quickly ... and was returned just as quickly, only three days after being adopted. It turns out that Brownie has severe separation anxiety, and couldn't handle being left alone in a house.
"He'd never been in a house before, and certainly not left alone by himself," Mark Boyer, a shelter volunteer, told The Dodo. "He must have been scared that the love he'd just found was being taken away."
Basically, Brownie has anxiety because he's afraid of not being loved.
Mark Boyer
Brownie needs a home with a family who understands that his circumstances have led him to be very anxious, and he needs a little extra help to overcome it. When Brownie is around people he is 100 percent affectionate, and loves to play and go on walks. He would actually do best in a home with other dogs, and is fine around cats as well.
Brownie is just a big lovebug who wants someone to love him back. As Susie's Senior Dogs, who featured Brownie on its Facebook page, put it, "He is extremely affectionate and simply wants to be around other beating hearts. All the time."
If you are interested in adopting Brownie, you can contact Mark Boyer at markboyer@outlook.com.