Rescue Dog Was Scared Of Everything — Until He Got A Little Brother
"He can still be fearful, but he is so much more confident when Ernie is around."
Jasper was found on the streets and rescued when he was just a year old. No one is sure what happened to Jasper during his first year of life, but he was underweight when he arrived at Austin Pets Alive (APA), and had mange and intense anxiety issues. Even once he was adopted by his new dad, Tom Paradis, his fears and anxieties didn't go away.
"He had been adopted and returned to APA twice before Tom adopted him, because he had such severe anxiety issues," Rachel Billings, Paradis's girlfriend and Jasper's mom, told The Dodo. "He was fearful of people, of going out on walks, riding in the car - pretty much everything terrified him."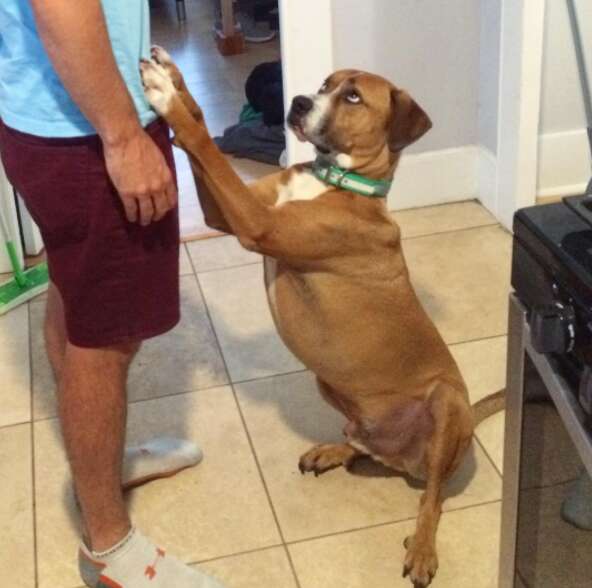 In order to help Jasper overcome his fears and relax a little, Paradis decided to try fostering a puppy. He thought maybe if Jasper had a friend by his side, the world wouldn't seem so scary anymore. He went back to APA, where he met Ernie, a little pit bull who was only a few months old.
Ernie had been pulled by APA from a high-kill shelter with his mom and siblings. His dad had been at the shelter, too, but sadly he had already been euthanized when the rescue found the family. Ernie was so happy and full of life, and he quickly became a foster fail. His new family loved him immediately - except for his new brother Jasper, who needed a little more time.
"Jasper wasn't a fan of Ernie at first, but Tom was smitten and felt that having another dog around would help Jasper come out of his shell a little bit more, so Ernie became a permanent member of the family," Billings said. "Ernie is Jasper's polar opposite - he is fearless, loves meeting new people and going new places, and LOVES attention."
Jasper's fears ran so deep that at first, he wasn't so sure about having a new little brother - but as time went on, it turned out that Paradis was right. Having a confident, fearless companion was exactly what Jasper needed.
"Ernie helped Jasper learn to play and explore and just enjoy being a dog," Billings said. "Now, they are inseparable and Jasper is like a different dog. He can still be fearful, but he is so much more confident when Ernie is around."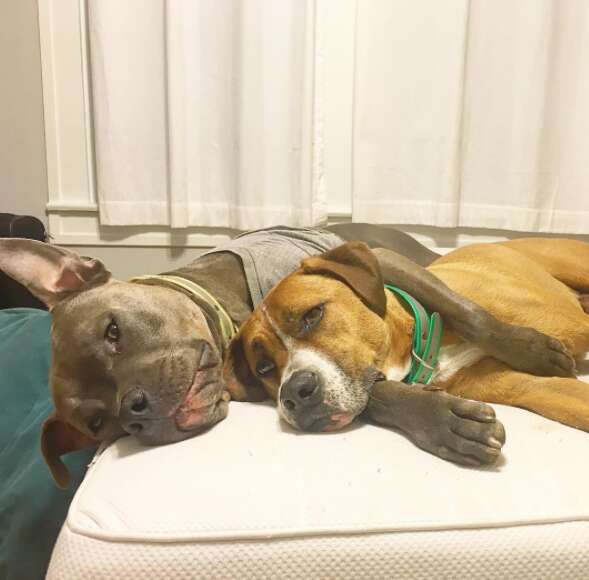 Jasper is now around 6 years old, and can do so much more than his parents ever thought he'd be able to. He goes to the park, goes swimming, makes new friends - as long as Ernie is by his side the entire time. With Ernie around, there's not much Jasper can't do.
"Ernie loves going on outings with us - he thinks Home Depot is just a giant fun-house full of people who are there for HIM," Billings said. "We still can't take Jasper places with lots of people and noise because it's too traumatic for him, but Jasper is always elated when Ernie gets home."
Because fostering is what led them to Ernie, Paradis and Billings have started fostering frequently over the past few years, and while Jasper is sort of indifferent about all the puppies who pass through, Ernie simply cannot get enough. It seems his purpose in life is to comfort and mentor other dogs in need, and he loves playing with and taking care of every new dog his parents take in.
"We have noticed that Ernie is constantly playing referee, whether with puppies we foster or other dogs on play dates or at the park - if there is any kind of conflict, Ernie rushes over to make sure everything is OK," Billings said. "He loves playing with puppies and is very gentle and patient with them."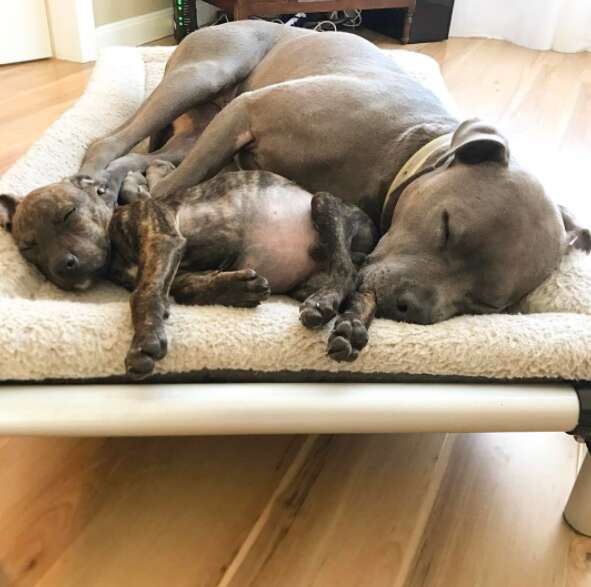 While Jasper may not be as into the fosters as Ernie is, he still accepts them and isn't afraid of them, and for Jasper, that's pretty huge. The family has fostered and found forever homes for 10 dogs so far, and they plan to take in more fosters in the coming months.
Jasper may still get anxious sometimes, but as long as Ernie is by is side, he can now get through anything that comes his way.