Dog Who Lost His Nose Finally Has Someone To Love Him
<p>Andrea LaHaye<span></span></p>
<p>Andrea LaHaye<span></span></p>
You might forgive Anubis for crying a little on his first night with his new family.
How was this brutalized dog from Egypt supposed to know he had found his home at last in Texas?
But when his owner, Kelly Hutson, got down on the floor beside him, Anubis stopped crying. And when she curled up beside him, Anubis didn't stir for the rest of the night.
In fact, for this dog nothing quite settles the soul like human contact.
"When I brought him home last night I sat with him and all he wanted to do was put his head against me and for me to love on him," Hutson tells The Dodo.
He became something of a rescue celebrity, garnering headlines across the globe.
But it never garnered Anubis a real home. Everyone loved him, it seemed. But no one would adopt him.
His first foster family wanted to keep him. In fact, that family spent seven months with Anubis, rebuilding his trust. They fed him and bathed him and slept next to him every night.
But in the end, Anubis wasn't ready to settle down with the family's other dogs. And so, he had to shuffle on.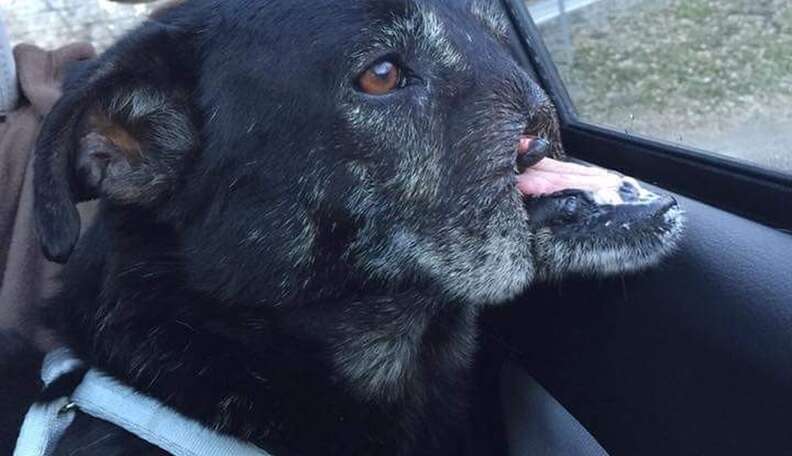 Then Hutson saw a picture of him online.
"I just knew he that he had to come and live with me," Hutson says. "I had a responsibility to protect and love this guy that had been so horribly and terribly wronged by one of us.
"I was ashamed of what one of my fellows humans had done."
And so, at around 7 o'clock on Sunday night, a seemingly broken dog arrived at her home, again courtesy of the volunteers at SNARR. And Hutson found a faith in humanity still, somehow, unbroken.
"My eyes leaked for the first two hours thinking about how sweet and gentle he is after all he's been through," Hutson explains. "I am so proud to be his new mommy."
And Anubis will have all the time in the world to adjust to new friends thanks to the pet sitting service Hutson owns. But, baby steps. For now, rest easy, Anubis. The long, dark night of your sweet soul is over.