SeaWorld Myth Debunked: Yes, We Can Release Captive Dolphins Safely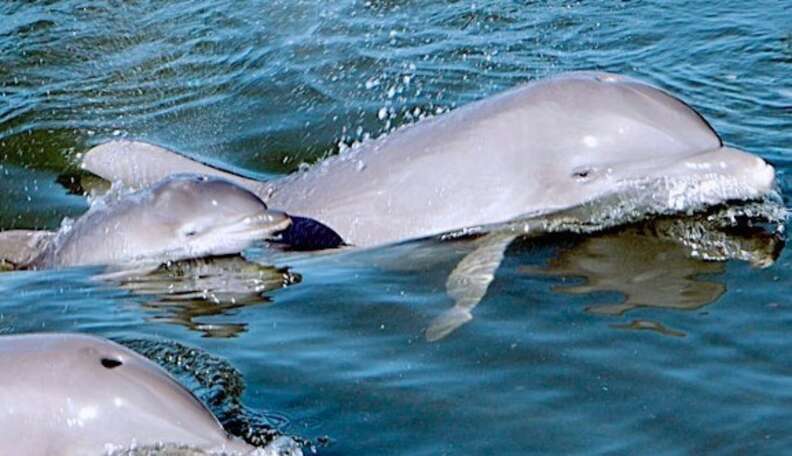 This article was originally published on Cetacean News Network .
"Can dolphins who are captive-born be successfully released into the wild?"
I traveled 5 hours to hear his answer to my question. I would have traveled 5000.
I have always agreed with the notion that wild mammals cannot forget millions of years of instinct in just one generation of captivity. I have been searching for proof of a dolphin that would debunk Seaworld's myth.
Seaworld always claimed "A captive-born dolphin could never survive in the wild!"
You know what they say about " Never"
Ric O'Barry does.
Ric O'Barry, founder of The Dolphin Project, he never says no to rescuing dolphins. Today he was in Las Vegas to help Founder Shelly Rae and The Mojave Dolphins screen "The Cove," followed by the Q and A with the famous dolphin warrior. After a standing ovation, the questions were read. His first answer was exactly the information I was searching for:
There is a dolphin by the name of Annessa who is seen all of the time between Key Largo and Tavernier. She escaped from the Dolphin Research Center in Grassy Key, Florida. Anessa was born in captivity. Although they say it can't be done and I've never released one born into captivity, I think it's possible under the right circumstances.
This dolphin proved you don't have to be from the wild to know that's where you belong. In Ken Balcomb's report on Successful Cetacean Releases, he recounts:
"Annessa, a captive-born Atlantic bottle-nose dolphin held at the Dolphin Research Center in the Florida Keys, disappeared and was feared lost during a hurricane in August, 1992. Annessa survived the hurricane, however, and was adopted by a pod of wild dolphins. She has been sighted numerous times - healthy and foraging on her own. One dolphin; Captive since birth; followup successful."
According to Ceta-Base, Annessa escaped the Dolphin Research Center on August 23 1992. Annessa was 11 when it happened. Before then she is described as being shy. The Pittsburg Press recounts during a visit in 1990:
Maybe she was plotting her escape instead of getting more dead fish for kisses?
The Dolphin Research Center itself is a dolphinarium on Grassy Key, Florida. The 90,000-square-foot series of saltwater lagoons carved out of the shoreline. They have eight different dolphin encounters daily, none of which are educational or based on research. Strangely enough, they also have cats.
Cats are knows to be dangerous in transmitting disease to dolphins. Their presence is a risk to the dolphins health and welfare, but this isn't about science this is about entertainment, greed and animal abuse cloaked to promote conservation.
Above caption is on their site ("Others have joined the family for a variety of reasons") neglects to mention that some of these reasons include hunting and capture.
DRC's page feature only one mention of Annessa. Their phrasing of her reveals a fascinating bias towards captivity, arguing that dolphins could become endangered if in the "[un]familiar ... world outside their lagoons." Read below:
Unfortunately for the facility, Ric O'Barry confirms the opposite. During his discussion he relates that Annessa can be seen "all the time between Key Largo and Tavernier [another Florida town]." The United States Marine Mammal Inventory categorizes Annessa as a captive born dolphin who was successfully released: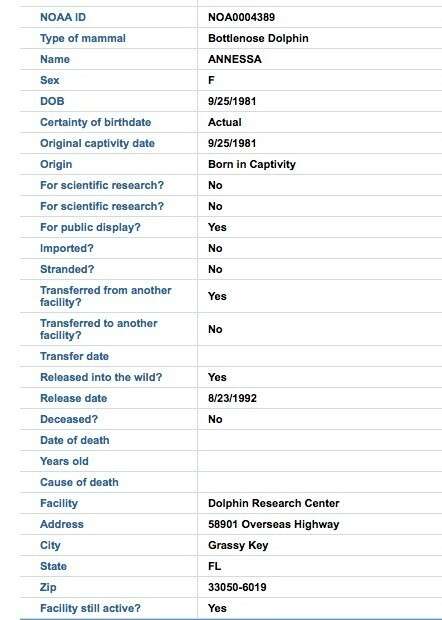 Dolphin Research Center do however, share more stories of their other dolphins, some of which have also moved around on their own during rough weather conditions:
"MY STORY: A.J. is quite a character. The explorer of DRC, he has boldly gone where few have gone before. When a tornado came through Grassy Key in 1998, A.J. swam over the collapsed fences, around the causeway of land and moved into a new lagoon to live with his girlfriends, Santini and Aleta! A.J. is the proud daddy of Tanner and Luna. "
Maybe they were trying to escape too? In digging deeper I find a few more dolphins who escaped during poor weather conditions and presumedly survived, although they were already from the wild.

This is testament that captivity does not effect their instincts to be in the wild and forage, even 20 years in captivity one dolphin named Gibbs managed to escape his pen during a hurricane.
In December 2013, a calf of a Risso's dolphin escaped its enclosure at the Taiji Whale Museum, although it's whereabouts are unknown, they searched the entire perimeter for days and did not recover one beached dolphin anywhere.
In Russia, it's been confirmed at least one dolphin ("Dicky") was successfully released back into the Black Sea. Even O'Barry said "I have released lots of dolphins successfully, it's possible."
So why is SeaWorld still holding onto the myth that captive-born (or even veteran wild-caught dolphins) cannot be released back into the wild? We all know the answer. Let's hope the dolphins held captive in pens in Taiji are safe during the typhoon that is hitting that area right now. The Dolphin Project video reports from taiji showing swells and stressed out dolphins: in 2011 when there was another typhoon that hit Taiji, most the dolphins in those pens died, some were "lost." Two dolphins have died in the pens during the typhoon in Taiji. I hope that this time, the rest escape.