Anonymous Woman Surrenders Tiger Cub At Shelter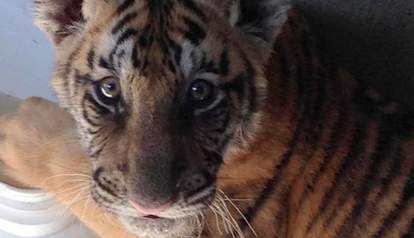 <p>Facebook/ForeverWild<br></p>
The cub had a hernia, and his front paws had been declawed, a painful procedure that can lead to later health problems, but other than that he was relatively healthy.
The shelter posted a photo of the cub on its Facebook page with the caption, "Although the Ramona Humane Society does not condone the keeping of exotic pets, he sure was cute!"
California Fish and Wildlife transferred the cub to the Forever Wild Exotic Animal Sanctuary in Phelan - which posted a photo on its Facebook page.
But the cub was only at Forever WIld for about 30 hours before being moved again, this time to Lions Tigers & Bears (LITB), a rescue in Alpine, California.
Hopefully this will be his home for good, because all that moving around must be terrifying for the little cub.
Lions Tigers & Bears
"This cub is very young, and has been through a lot. A cub this age should still be with his mother and his litter mates," LTB founder Bobbi Brink said in a press release. "This is the most crucial period, developmentally in a tiger's life."
Whoever bought and then abandoned this little cub condemned him to a tough life - away from his mother and surrounded by humans. He'll never get a chance to live in the wild.
Lions Tigers & Bears
LTB's Bobbi Brink issued an impassioned plea to end the capture and sale of exotic animals as pets: "Please, please, please do not get lured into thinking these animals make good pets. They are wild animals. This cub is going to be in captivity for the rest of his life - and it was never his choice."
Sadly there are more captive tigers in the U.S. than there are wild tigers in the world.