Anonymous Shuts Down Japanese Town's Web Site Over Dolphin Kills [Updated]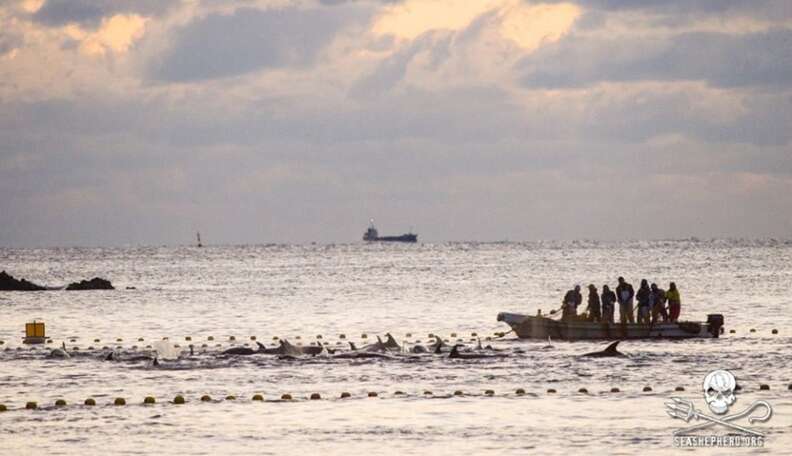 Anonymous, the international network of "hacktivists," officially launched a campaign against the Japanese city of Taiji, which runs the infamous dolphin hunt, claiming to have taken down the webpage for Wakayama Prefecture, where Taiji is located.
End the Slaughter now or Expect more Attacks! #TangoDown ---> #offline#nulledhttp://t.co/Rsqwn3qyav#OpKillingBay#Anonymous
- Anonymous Priest (@YourAnonPriest) January 21, 2014
Anonymous threatened to attack several more of Japan's government websites in retribution for the dolphin hunt -- which had turned into a grisly slaughter just hours before the site went down. The group has also released video explaining #OpKillingBay, and announced via the Anonymous Twitter page that this is merely the beginning of a bigger campaign.
We are allowing the Taiji Prefecture Website to breath again! That was another Warning Japan! Expect us February 9th #OpKillingBay
- Anonymous Priest (@YourAnonPriest) January 21, 2014
#Anonymous shuts down Japanese gov't website over #Taiji dolphin hunt. http://t.co/ex39pfyN0F | #TaijiNeverAgain
- Anonymous (@YourAnonNews) January 21, 2014
ACTION GUIDE: Taiji Dolphin Slaughter
Dolphin roundups and slaughter -- brought powerfully to the public's imagination by he Oscar-winning documentary "The Cove" -- happen every year in Japan. You can visit Sea Shepherd's site to learn more about the problem. The organization has many ways you can help -- from volunteering to simply spreading the word on Facebook andTwitter. Sea Shepherd also encourages concerned citizens to call and write to the authorities in Taiji as well as the Japanese Embassy in your country, the U.S. Embassy to Japan, U.S. and Japanese Ambassadors to the UN and the U.S. Senate members of the Committee on Foreign Relations, among others -- all of their contact information is onthis page. Another group involved in the issue is Earth Island Institute's Save Japan Dolphins.