Does Pope Francis Believe The Pearly Gates Have A Doggy Door? [CORRECTION]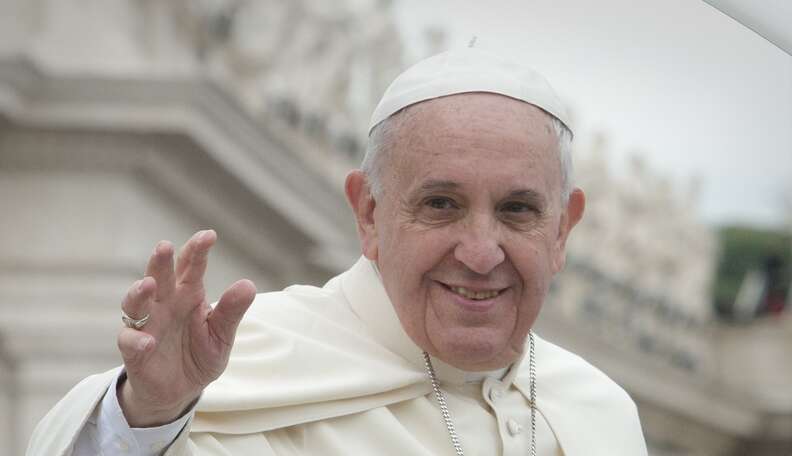 <p><a class="checked-link" href="http://upload.wikimedia.org/wikipedia/commons/1/14/Canonization_2014-_The_Canonization_of_Saint_John_XXIII_and_Saint_John_Paul_II_(14036966125).jpg">Wikimedia</a></p>
<p><a class="checked-link" href="http://upload.wikimedia.org/wikipedia/commons/1/14/Canonization_2014-_The_Canonization_of_Saint_John_XXIII_and_Saint_John_Paul_II_(14036966125).jpg">Wikimedia</a></p>
CORRECTION: A previous version of this article attributed the quotation "Heaven is open to all creatures" to Pope Francis. As Reuters reports, however, that comment was not made by Pope Francis, but rather stems from a misstatement by an Italian newspaper.
In his weekly address at the Vatican late last month, Pope Francis touched on a subject that left many wondering whether the Pearly Gates might come with a doggy door. Although the pope did not mention animals specifically, many followers took his Nov. 26 address about heaven to suggest that it might be more inclusive than exclusive.
"Sacred Scripture teaches us that the fulfillment of this marvelous plan cannot but involve everything that surrounds us and came from the heart and mind of God," said Pope Francis, as quoted by the Vatican.
Original reports erroneously said that Pope Francis mentioned animals in his speech, and news organizations were quick to retract. However, New York Times editor of international news Michael Slackman says, "The pope did in fact make comments suggesting heaven is open to animals."
Though it's debatable as to whether he does believe in an afterlife for dogs and cats, Francis - who adopted his papal name in honor of the patron saint of animals, St. Francis of Assisi - has spoken out on behalf of nonhumans before. In his first homily as pope, Francis articulated mankind's role in serving not only the divine, but in all creatures born from it:
"The vocation of being a 'protector,' however, is not just something involving us Christians alone; it also has a prior dimension which is simply human, involving everyone. It means protecting all creation, the beauty of the created world, as the Book of Genesis tells us and as St. Francis of Assisi showed us. It means respecting each of God's creatures and respecting the environment in which we live."
Pope Francis' predecessor, Benedict XVI, despite being a cat lover, said that animals' existence was limited to their time on Earth. But if Francis does believe that animals follow you to the afterlife, he may not be the first. As newspaper Divisione la Repubblica notes, Pope John Paul II may have thought so, too, saying animals had a "divine breath."