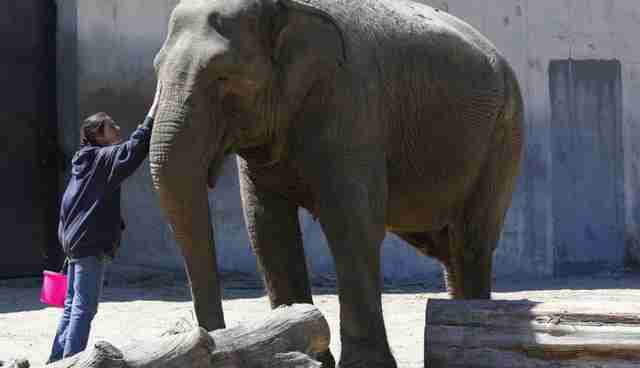 Karen "Kay" Santos of the Buttonwood Park Zoo in New Bedford with one of the zoo's elephants.
(This letter to the editor originally appeared in the Boston Globe on April 29, 2014.)
Thank you for highlighting the plight of Ruth and Emily, two Asian elephants languishing at the Buttonwood Park Zoo in New Bedford ("Time to retire?" Metro, April 25). There is, indeed, growing public concern across the nation over keeping zoo animals in captivity, particularly elephants, a species ill suited for a life removed from the wild.
Hundreds of elephants remain in captivity in the United States. It is impossible for any modern zoo to provide the adequate space needed for elephants to engage in natural behaviors. Elephants in a zoo are confined to tiny spaces and often forced to live with prefabricated family groups.
Many compassionate animal advocates are urging the zoo to retire the elephants to the Elephant Sanctuary in Tennessee, which could offer them a more natural habitat, socialization with other Asian elephants, and a much-needed break from constant public display. The Performing Animal Welfare Society in California would be another sanctuary that could prevent excellent care in more naturalistic surroundings.