A Look At Volunteers And The Shelter Dogs Who Love Them
Putting animal shelter volunteers in the spotlight
Finding Shelter is not a shelter dog project- it is a people project. And just like all my dog portraiture, at its core Finding Shelter is simply about relationships.
For the past few years I have watched my colleagues in the dog photography world get caught up in the new trend of photographing adoptable shelter animals. What a great trend to be caught up in; it is powerful, generous and hugely important work, and tips the balance between survival and euthanasia for so many animals. When a shelter animal is represented with a flattering professional photograph, it is much likelier to get adopted, and thank goodness for those amazing photographers who donate their time. But what I felt was missing from that trend was a wider view. These photographers were seeing the animal shelter (and the process of keeping those animals alive) as one-sided, which of course got me interested in telling the story of the other side: the human volunteers.
Shelter volunteers are amazing people- they are selfless, dedicated, and emotional. They are looking to give their love to something outside of themselves, something that has been abandoned or mistreated or forgotten, and there is nothing more powerful than that.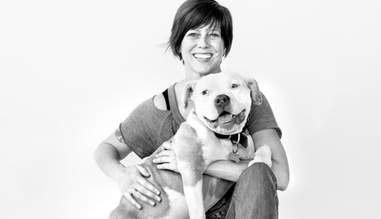 What I began seeing as I started photographing Finding Shelter was that the volunteers were not only interested in simply sharing their affection with the animals; they equally needed the love that the shelter animals gave back. I was thrilled to see such an emotional relationship between the volunteers and adoptable animals. The silent love a shelter dog gives to the human who cares for him is truly healing, making an animal shelter a place for humans and animals to heal together. Though the topic is never actually discussed, volunteers find an environment of support and friendship within their relationships with the abandoned animals that keeps them coming back.
I hope that Finding Shelter helps reinterpret the often looked down upon depressive animal shelter. There have been many wonderful campaigns over the past few years to put a new spin on adopting animals and remove the stigma of homelessness, abandonment, and abuse. But this cannot be done with simply a good photo of a dog; people need to be introduced to the human element. I believe this will help them connect with shelter work, and understand the importance of adoption, spay/neuter and volunteering.
My photography has always been about honesty, observation and story telling. I'm happy with the Finding Shelter series so far, and am continuing to photograph volunteers in California. Please be in touch if you are interested in getting involved: www.jessefreidin.com. I'd love to hear from you.