People Are Risking Their Lives To Save Animals From Louisiana Floods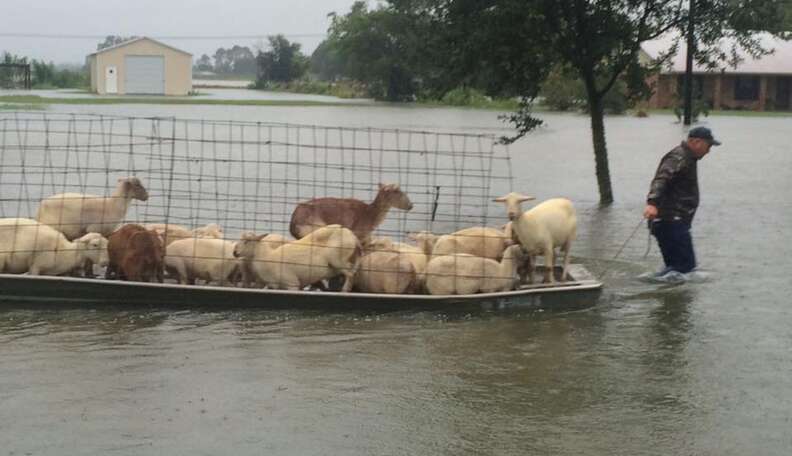 <p><a href="https://www.facebook.com/photo.php?fbid=10209492641369258&set=o.61662826968&type=3&theater" target="_blank">Facebook/Heidi Bellard</a></p>
<p><a href="https://www.facebook.com/photo.php?fbid=10209492641369258&set=o.61662826968&type=3&theater" target="_blank">Facebook/Heidi Bellard</a></p>
Last Friday, Louisiana's Denham Springs Animal Shelter was completely engulfed in rising floodwaters, leaving just the roof of the building barely visible.
"The dedicated staff and volunteers fought to save as many animals as possible from the flood waters, eventually having to unlatch the kennel doors and let the dogs swim out and climb onto the roof," the rescue wrote on GoFundMe.
A volunteer told The Dodo that boats were then used to transport rescued dogs and cats to higher ground where they would be safe from drowning - ever since, neighbors who did not evacuate from their homes, along with local organizations, have been assisting the shelter in feeding and providing temporary care for the animals.
In the meantime, shelter workers are working toward lining up proper foster homes.
The volunteer also said that in addition to helping Denham Springs' homeless animals, the shelter anticipates that will rescue pets who've lost their families and homes to floodwaters.
Other animal rescues have taken place across the state as well. One photo shared on Facebook shows a man pulling a boat filled with sheep.
You can help support LSART's ongoing efforts by making a contribution here.
Want to support the Denham Springs Animal Shelter's rescue and rebuilding efforts? Consider making a donation here or contributing to Animal Rescue New Orleans (ARNO), which has been helping the shelter with relief efforts.
Do you live in the Louisiana area and are interested in fostering one of the shelter's many animals in need? Fill out an application here.
Watch this video about people who formed a human chain to save a dog from drowning: