The Best And Worst States For Animal Cruelty
In all 50 states, animal cruelty is now a serious crime, but how tough is the place you call home on offenses like dog fighting and serial neglect?
Today, the Animal Legal Defense Fund (ALDF) released their annual ranking of every state in the union by the strength of their animal protection laws, dividing them into the top, middle and bottom tiers seen in the chart below: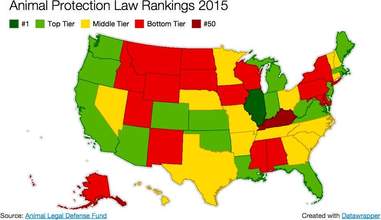 This year, the very top and bottom of the list were no surprise, with Illinois coming in first place and Kentucky coming in last, as they both have for the past eight years, according to the ALDF.
Within the rankings, however, the organization was glad to see other states make significant improvements.
"We were very happy to see New Jersey-which has historically ranked fairly low for its animal protection laws-jump into the Top Tier this year, in part, by passing comprehensive legislation relating to dogfighting," ALDF attorney Lora Dunn told The Dodo. "Dogfighting is a highly organized and dangerous activity for humans and animals alike, and we commend New Jersey for passing additional measures to combat this heinous crime."
Even more encouragingly, the ALDF found that more than 75 percent of jurisdictions surveyed have significantly strengthened laws protecting animals over the past five years.
"The trends we see year to year are really widespread, and occur on a national scale," said Dunn, applauding increased protections in 2015 for pets of domestic violence victims and new laws prohibiting owners from leaving their unattended in cars.
See the complete rankings below or click here to learn how you can help stop animal cruelty in your state.
2015 U.S. Animal Protection Law Rankings