Some people believe that strange animal behaviour is a sign for something wrong happening on the Planet. But what does it actually mean to act weird when you are a complex mixture of instincts? Let start with the strongest of them - the instinct of self-preservation or the great desire to live. This is the first priest reaction when something threatens your life, regardless of your species. But what can make an animal to forget this instinct and plunge it to a suicide. That's right animals also do it!
Why An Animal Would Kill Itself?
Unusual number of animal suicides are registered over the last few decades. Starting with the Overtoun Bridge in Scotland, where hundreds of dogs have killed themselves by plunging off of the bridge; through the Swiss village of Lauterbrunnen's Cliff, where 28 cows and bulls committed a group suicide by throwing themselves off the cliff; to Jatinga, India, where hundreds of birds from different species dive into the earth to kill themselves, every year since 1800s, and over a 500 other accidents recorded, we still don't have the answer "Why is this happening?".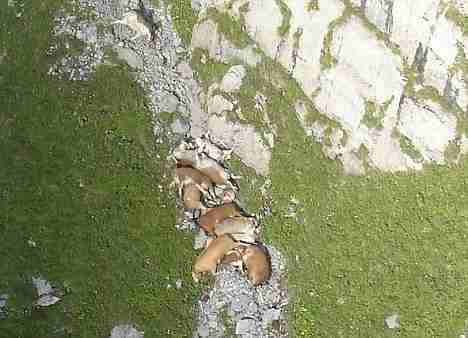 The most supported theory comes from Indian scientists, who says: "Atmospheric conditions confused the birds in Jatinga and change their sense of direction, causing crash into the ground".
The most believed theory about the Lauterbrunnen Cliff's cows sounds similar. German scientists of the Proceedings of the National Academy of Sciences, recorded that cows, everywhere, tended to face either magnetic north or south, each time they eat, based on Google Earth images of over 8,000 cows and bulls around the Planet. This is one of the possible reasons why Lauterbrunnen Cliff's cows killed themselves. Unusual curving of the earth's geomagnetic fields, caused by "atmospheric conditions" was recorded in the Swiss cliff, back then, which confused caws' sense of magnetic north and south.
Is the Earth becoming an unbearable place to live and animals just hasten to leave it... Is Nature trying to tell us something? We have only theories...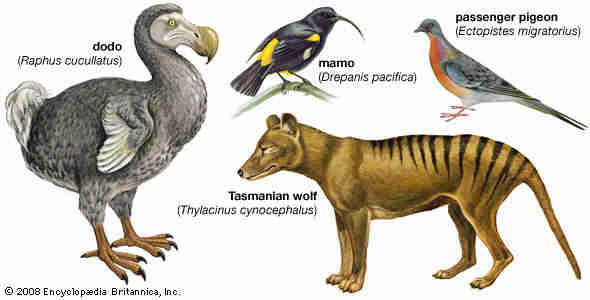 Why Animal Species Disappear?
Koala Lemur, Dodo, Japanese Sea Lion, Zanzibar Leopard, Pyrenean Ibex, West African Black Rhinoceros are all extinct animals from the large list of species we will never see again. Is this a natural part of Evolution? We can call it Evolution, yeah. It helps species developing their bodies and minds, and instincts, and skills. It helps the strongest animals to survive and eliminate these who can not get used to the new environmental conditions. But when people damage the environment and destroy wild animals' homes, it is not Evolution. Why should animals change their habits because of us?
Animal species disappear for a reason. They can not deal with us any-more. This is the Nature's voice telling us to STOP! We are on the top of the Food Pyramid. We are the strongest species and we are responsible for the Planet to keep it safe as a home for us and all other living organisms. But thinking of ourselves as the smartest and most intelligent creatures on Earth has made us forget our roots and our Creator - Nature... We don't see her crying. Every extinct animal is a maternal tear.
And when we talk about animal disappears...
Bees Are Disappearing, Too!
Honey bee population has been slowly disappearing for years, but a really dramatic drop was registered in 2006. In the last year, the bee population has decreased with about 40%. Most affected are America and Europe. But no one knows for sure why bees disappear. This is a huge problem for all living creatures, because bees are major pollinators, and help food plants reproduce. Without them, we all - humans and animals, are doomed to starve.
Some of the reasons for bee disappearing are mite-spread viruses, global climate change, atmospheric electromagnetic radiation from cell phone, all caused by human actions. And the most supported theory refers directly to us. Dr. Richard Gill and colleagues at the University of London conducted a scientific study, which has proved: "chronic exposure...to two pesticides...impairs natural foraging behaviour and increases worker mortality." These are neonicotinoid and pyrethroid, which have a combined impact on bee hive survival. An experimental research, took by Dr. Richard Gill and his team showed that neonicotinoid and pyrethroid caused a 100% increase in bee mortality. But this study doesn't give us a complete explanation of this strange bee behaviour. In countries where these pesticides are forbidden for usage, the bee disappearing is still a problem. This means we still don't have the answer "Why?"... Are we able to reverse the disappearing process, do we have the time for it? Or we will just wait...
My question is why people just sit calmly and watch animals die? Even these we consider as a part of our families, our pets...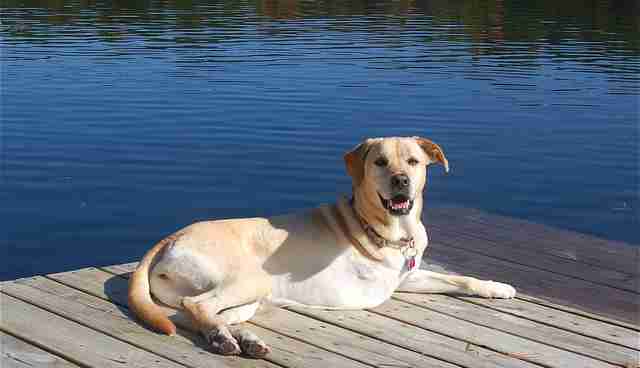 Why Our Pets Suffer from Cancer
Cancer is the most ridiculous disease. There is no real explanation given by scientists what actually causes cancer. Most theories refer to genetic mutations, high levels of toxins intake, or environment pollution. But why should our pets suffer from cancer, too? Just because they live with us and share our totally unhealthy lifestyle. Pet cancer is not only a concerning disease, it is one of the leading causes of death in dogs and cats and causes so much pain... And only domesticated animals suffer from cancer, or at least, at such an alarming rate. Only animals who share a household with us die from cancer. Do we really need a more significant warning that something wrong is happening, that we do things in a wrong way, that we destroy everything around us?!?
We have to WAKE UP!
Sources: