When it comes to laying down the law against animal abusers, all too often the punishment feels paltry compared to the crime. But in one case against a woman who made her pet live in squalor, the judge's sentencing seemed more fitting than most.
Last September, Alyssa Morrow of Ohio pleaded guilty to animal cruelty and neglect for leaving her dog, Moose, trapped inside her filthy home all alone for a week. Rather than putting her behind bars, however, Judge Michael A. Cicconetti ordered her to not only do hard time, but putrid time too - a bit like what she'd put Moose through.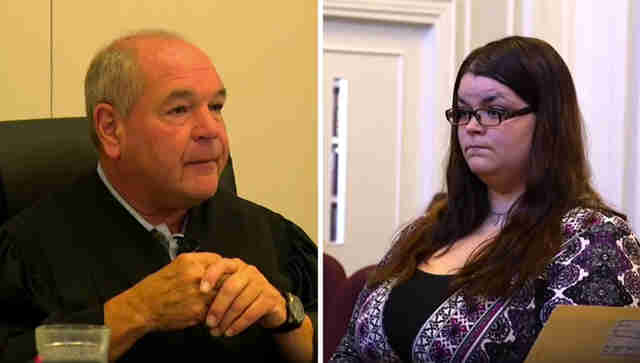 Here's a transcript from the sentencing, via AudioBurst:
"You know I can't interpret the feelings of a dog, but boy if dogs could tell you how they felt..." said Judge Cicconetti.

"Abandoned?" said Morrow.

"Oh yeah, and scared and frightened and sick," the judge continued. "Maybe you should get a little taste of that, but I'm going to let you have a choice here, and the choice is I want you to live like Moose, and in order to do that I want you to go down to the county dump, to the landfill, and I want them to find the stinkiest smelliest god-awful odor place they can find in that dump and I want you to sit there for 8 hours tomorrow, to think what you did to that dog while you smell the odor."

Then he added, "If you puke, you puke."
ABC News was there as Marrow's sentence was carried out at the garbage dump:
It's impossible to say if Marrow truly learned her lesson from her time at the dump, but, fortunately, Moose didn't have to stick around to find out. As we learn in the clip above, he was adopted out to a new family.
This isn't the first time Judge Cicconetti has thought outside the box, and jail cell, when it came time to sentence criminals. Watch ABC News' segment on his creative punishments in its entirety by clicking here.
Find out more about how you can help pass tougher animal protection laws.