Angelina Jolie Signs On To Direct Film About Tackling Africa's Poaching Crisis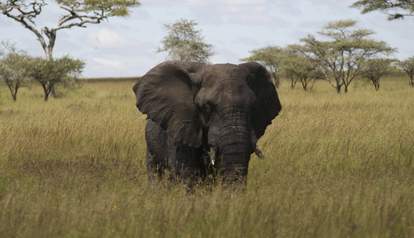 <p><a href="http://upload.wikimedia.org/wikipedia/commons/e/e6/African_elephant_,Serengeti.jpg">Wikimedia</a></p>
At a time when the killing of African elephants has hit crisis levels, claiming the lives of roughly 30,000 a year, the issue of illegal hunting could use all of the exposure it can get. Now, one of Hollywood's biggest stars is lending her voice to a project that puts Africa's poaching problem in center focus.
According to The Hollywood Reporter, Angelina Jolie has signed on to direct a new film, titled Africa, based on the life of famed archaeologist Richard Leakey, one of the world's leading figures on elephant conservation.
In 1989, amid an elephant poaching epidemic in his native Kenya, Leakey helped establish the Kenyan Wildlife Service, which employed military tactics and authorized the use of lethal force in the battle to protect wildlife from illegal hunters. Under his leadership, poaching rates fell in the 1990s, thanks in large part to the confrontational approach he espoused.
(Wikimedia)
"I've felt a deep connection to Africa and its culture for much of my life, and was taken with [screenwriter Eric Roth's] beautiful script about a man drawn into the violent conflict with elephant poachers who emerged with a deeper understanding of man's footprint and a profound sense of responsibility for the world around him," says Jolie.
This will be Jolie's fourth film as director.