An Epic Move: South Africa Evacuates Its Rhinos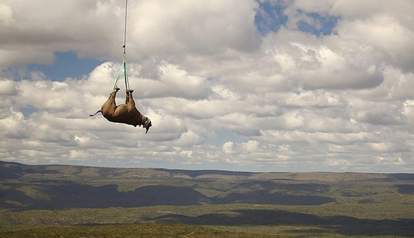 After much speculation as to whether or not it would happen, the South African government has made it official. They have approved moving 500 rhinos out of Kruger National Park.
Of the rhino to be moved, 260 will be sold to private buyers and another 250 taken to a safe location.
Edna Molewa, South Africa's Minister of Environmental Affairs, confirmed the possibility the rhino will be sent to Botswana and Zambia, where there will be "intense protection zones."
Edna Molewa, Minister of Environmental Affairs, SA via: SABC According to Molewa, "this move, along with creating rhino strongholds could allow a total rhino population size of South Africa continue to grow."
Botswana not only has better political and economic stability and a smaller population than South Africa, but they recently banned commercial trophy hunting and in 2013 adopted the controversial shoot-to-kill policy in place for poachers.
In Zambia, the rhino population had been decimated from previous poaching. But groups like African Wildlife Foundation and Save the Rhino are working on bringing rhino populations back to varying Parks. Possession of rhino horn or a conviction of poaching can receive a sentence of 20 years in Zambia. Tourism and Arts Deputy Minister Lawrence Evans said poachers and other people engaged in illegal wildlife trade would be dealt with severely.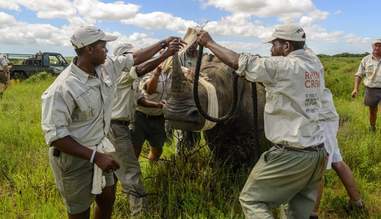 Previous rhino translocation from SA to Botswana via: Mike Cowton Although logistically moving such a large number of 2-ton animals seems difficult to say the least, they've done it before. Between 1997 and 2013, 1500 rhinos have been relocated from Kruger. According to Molewa that move "has contributed significantly" to the rhino population.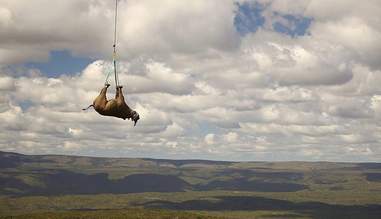 Helicopters have been donated to assist in the move. via: Green Renaissance/EPA Disclosure of exact location could endanger the rhinos, yet it would be all too easy to maintain small groups of rhino throughout varying reserves, just enough to avoid questioning while in the meantime, selling the majority. Even more troubling: Who are the private buyers? Trophy hunters?
With the steeping shadow of suspicion looming over them, can South Africa really afford not to be upfront? According to a report released to the SANParks board, rhino poaching has seen an average escalation of 70 percent a year. At the time of this posting, 660 have been slaughtered in the current year.
For more on South Africa's rhino poaching plan: see Edna Molewa's Strategic Management of Rhinos