'Special Needs' Puppy Was For Sale — On Craigslist
Buttermilk almost missed her happy ending.
Moments after her rescue, Buttermilk snuggles in.Facebook/Second Chance Rescue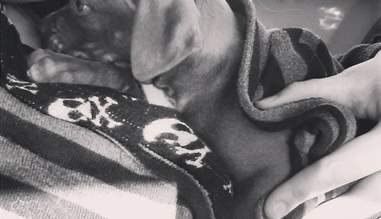 Moments after her rescue, Buttermilk snuggles in.

| Facebook/Second Chance Rescue
Animal rescue organization Second Chance Rescue in New York City recently received an alert about a listing on Craigslist for a "Special Needs Puppy." Once they saw the photos of this chocolate brown, 6-week-old puppy - and considered the potential outcomes for dogs listed on the site - they kicked into gear.
Within hours, a volunteer arrived to pick up Buttermilk; the previous owner scooped the puppy out of a book bag and handed her over.
Buttermilk's abdomen was badly swollen, indicating a severe umbilical hernia that needed fast treatment.
In addition to her belly problems, Buttermilk had a broken tail.
The owner claimed it was because the pup's mother had stepped on it, but the vet said it was the result of human abuse.
Buttermilk soon received hernia surgery that saved her life - if it had been much longer, she wouldn't have made it. Had she remained listed up for sale on Craigslist for long, she might have also met a grim fate. Dog fighters and other animal abusers often find their next victims through the site.
Now Second Chance Rescue is struggling with the huge, sudden bill for the little one's surgery and is looking for donations to offset expenses and help keep their rescue operations going.
To learn more and donate, visit Second Chance Rescue.