Pit Bull Was Stabbed Nearly To Death. Here's How People Brought Him Back To Life.
Warning: Graphic image below
Rowdy was only 8 months old when a man who was supposed to be caring for him took him to a park in South Sacramento, California, tethered him to a tree and stabbed him nearly to death last August. A good Samaritan released him from the tree so he could escape. That was the first of many interventions to save Rowdy's life.
Stace Dugdale
Stace Dugdale
The man who so brutally hurt Rowdy, 19-year-old Marquayous Hill, was arrested and charged with felony animal cruelty, and Rowdy was taken to the Sacramento County Animal Shelter where Dr. Jean Rabinowitz performed emergency surgery on him. Rowdy suffered horrific injuries to his neck and face, and lost his left eye, but he was determined to survive.
Rowdy after emergency surgeryDr. Jean Rabinowitz
Rowdy after emergency surgery

| Dr. Jean Rabinowitz
Hill ultimately pled guilty and was sentenced to 300 days in jail. Tragically, Rowdy was also "jailed" - initially held at a shelter as evidence while his abuser was prosecuted. Traumatized and under a great deal of stress in the kennel environment, Rowdy began having behavioral issues. The shelter was concerned about releasing him, but Rabinowitz had become Rowdy's champion, and she would not give up.
She contacted NorCal Bully Breed Rescue, who worked with the shelter for months to coordinate Rowdy's release. NorCal brought in trainer Erin Kramer of the dog rehabilitation group Tug Dogs to evaluate Rowdy. Kramer, who specializes in canine behavioral issues, was confident Rowdy could be rehabilitated and recommended an 8-week training and behavior modification program for him at its Elverta, California, location. The cost would be in the thousands of dollars.
NorCal Bully and the local shelter reached out to the community and, within a short period of time, the entire cost of the program was raised.
Rowdy's attacker was recently released after serving only 86 days of his sentence. Just days later, Rowdy was also released, with a crowd of supporters led by Rabinowitz and his new friends from NorCal. Rowdy was on his way to a new and much improved life, starting at Tug Dogs.
Rowdy leaves the Shelter with his Champions (Anna Sharp, Dr. Jean Rabinowitz and Leslie Bird)Stace Dugdale
Rowdy leaves the Shelter with his Champions (Anna Sharp, Dr. Jean Rabinowitz and Leslie Bird)

| Stace Dugdale
Rowdy arrived at Tug Dogs on January 10, 2016.
Tug Dogs specializes in rehabilitating dogs with fear, anxiety and aggression issues - often developed through life circumstances the dog had no control over. Trainers carefully consider each dog's environment, history, health and point of view to create a custom training program designed to change not only how that dog acts in the world, but how that dog feels in every situation he encounters.
"While Rowdy is a sweet and surprisingly confident dog given his previous abuse, Rowdy is also a dog who arrived into our rehabilitation program totally unaware of the two most fundamental concepts every dog must know in order for us to teach them livability skills, training and behavior modification," Kramer said.
The first of those two skills was impulse control - and as his name implies, Rowdy was lacking. He needed to learn from scratch "how to switch gears from excitement to calm," said Kramer.
"By guiding Rowdy with the leash, giving him appropriate energy outlets outside of training and by modeling calm behavior, Rowdy has already started learning to control his impulses, helping him acclimate to home life," Kramer said.
Rowdy at Tug DogsErin Kramer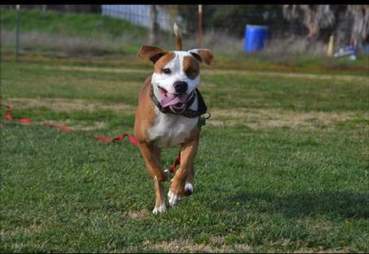 Rowdy at Tug Dogs

| Erin Kramer
The second skill was getting Rowdy to learn that it pays to listen to people - something dogs who grow up in a home tend to learn naturally.
"From eye contact games to Rowdy earning the things he really wants, there are a number of simple and fun ways to teach a dog to watch their handler," Kramer said.
With his newfound impulse control and focus on his handler, Rowdy is showing what a good learner he is.
"Every day Rowdy shows us something new and we are thrilled to see his little successes add up to a dog who is healthy, happy and will be very adoptable at the end of his training program," Kramer said.
Rowdy was horribly betrayed by someone he trusted, but thanks to many heroes he now has a new beginning full of love and hope. He will be available for adoption through NorCal Bully Breed Rescue once his training with Tug Dogs is complete.
To make a donation in Rowdy's name for his continued care after training, and to help other dogs in need, please visit NorCal Bully Breed Rescue's website or Facebook page.
For more information on Tug Dogs, please visit its website and Facebook page.
The donations for Rowdy's training included an extremely generous donation by a local woman who has been searching for her lost Labrador/German shepherd mix Freddie for almost a year. She has helped many other dogs in need along the way. To help find Freddie, please visit and share his Facebook page.