Tiny Pig Is Star Pupil At This School For Dogs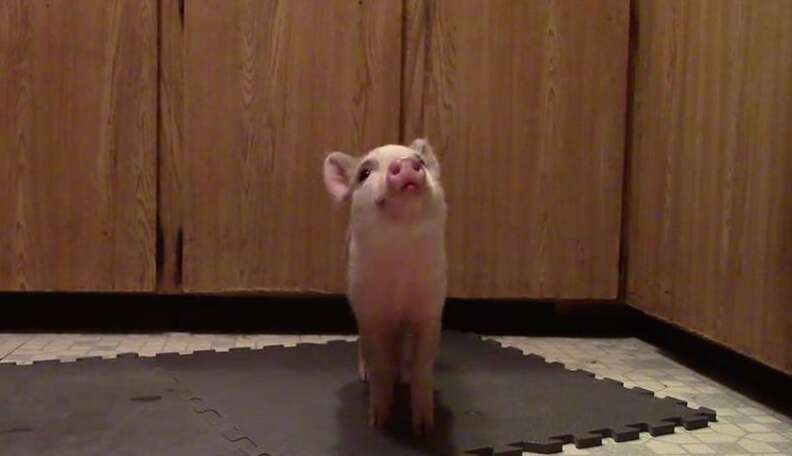 <p><a href="https://www.youtube.com/watch?v=NNcTAO2bqwo"> YouTube/Amy Trotter</a></p>
Pigs are some of the smartest animals around, but one little pig in particular has been putting her dog friends to shame.
Amy Trotter, a 6-month-old, 45-pound pig, recently enrolled in her local obedience school in Kent, Washington, where she quickly surprised trainers and other participants by becoming the star student.
"She is the smartest dog I've ever trained," Lori Stock, Amy's human, told Seattle's Komo 4 News. It also helps that, being a pig, Amy is highly motivated by food.
A YouTube channel shows the young pig weaving through poles, tackling a seesaw and even being treated to a massage.
On Saturday, Amy showed off her skills at the Seattle Kennel Club Dog Show, where she participated in a skit and a freestyle dance number with her canine classmates.
"It's been real surprising to me just how responsive and how bonded she has become with me," Stock told the Seattle Times at the show.
"When she gets something right ... I see her kind of glow from within, like she's proud of herself," she added. "Not that she pleased me so much, but that she did something that pleased herself."
Amy has already graduated from a "Puppy Manners" class and is currently enrolled in an agility and obedience course at the Family Dog Training Center, Komo 4 News reported. Kathy Lang, the center's owner, said that Amy wasn't a surprise since the center has previously had a pygmy goat as a pupil.
When she's not showing off, Amy lives with Stock and her husband, two rats and five dogs. "The dogs basically treat Amy as one of their own kind," Stock told the Seattle Kennel Club. "When it's nap time, they're side-by-side on the living room dog beds."
Pigs can make great pets, but they're best suited for well-prepared, accommodating caregivers. Many people fall prey to breeders who claim they're selling "teacup" pigs, who are actually just young or malnourished pigs who are often abandoned when their owners realize they're about to have a full-grown pig on their hands.
As always, if you're considering adding an animal to your family, go with adoption and do your research.