Cat Rescued From Abandoned House Now Sails Around The World
<p>Liz Clark </p>
<p>Liz Clark </p>
Liz Clark could think of plenty of reasons not to keep a cat onboard her boat. She'd been sailing around the world on her 40-foot sailboat, the Swell, since 2006, and didn't intend to stop anytime soon. That couldn't be much fun for a cat, right? Besides, Clark was often busy with boat maintenance. Then, of course, there was her surfing addiction.
But when Clark stopped in French Polynesia and found a 6-month-old kitten in an abandoned house, everything changed. Clark took the kitten back to the Swell to feed her and give her some love. She didn't intend to keep the kitten - she'd just watch her until she found someone who could take better care of her.
The problem was, Clark couldn't actually find anyone who'd take better care of the kitten than she could herself. So she named the cat Amelia after the trailblazing pilot Amelia Earhart, and decided to see if Amelia could get her sea legs.
At first, Amelia didn't seem too sure about life onboard. In fact, she seemed to hate the ocean ...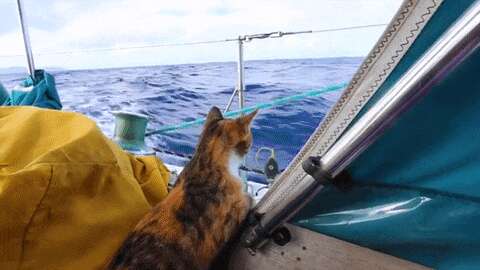 ... especially when she fell into the water.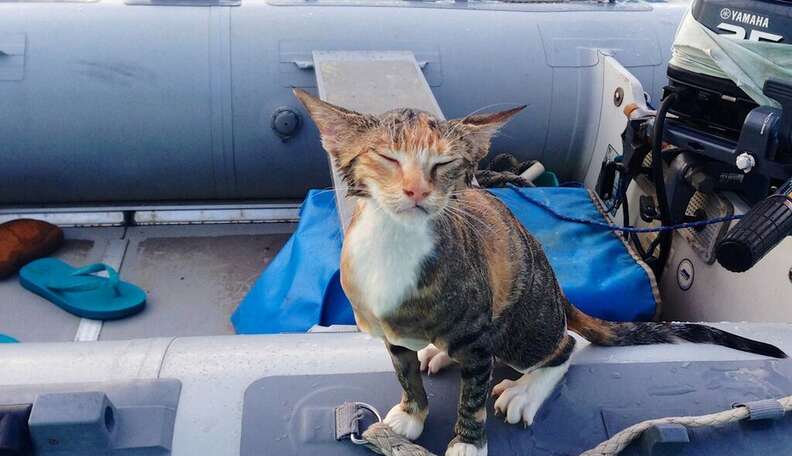 Still unsure about what was best for Amelia, Clark took her kitty companion ashore with her.
"I knew she needed to climb trees and stretch her legs," Clark tells The Dodo. "So I figured I would bring her ashore in a safe place, and if she ran off, then I'd know she was unhappy on the boat and that would be that."
But Amelia didn't run off, and she reboarded the Swell with Clark. From then on, Clark knew Amelia would be OK, as long as she had the opportunity to walk on land sometimes.
It didn't take long for Amelia to get used to life aboard a sailboat.
She had lots of places to climb ...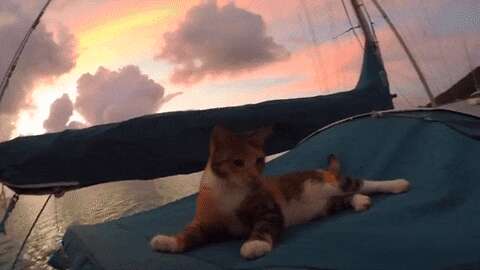 She earned the captain's trust to take the helm ...
... and learned that she was nothing short of a rockstar on this boat. She was Amelia - Amelia the Tropicat!
One thing Amelia didn't seem too keen on was Clark's vegan food ...
... so she tended to shirk galley duty.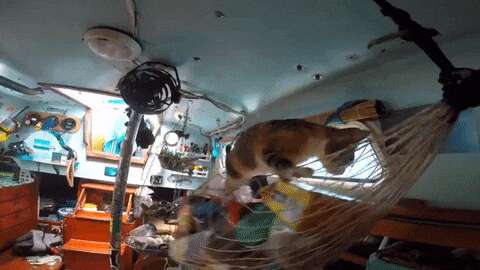 Amelia did run away once, disappearing on a tropical island for 42 days. Clark never stopped looking for her, but tried to come to terms with the fact that Amelia might not want to come back.
But eventually, Amelia did come back. She hasn't left Clark's side since. She accompanies Clark to dinners on other boats, restaurants, pool halls and other places on land. She's also learned to travel on dinghies, cars, motorbikes and canoes.
"She keeps her cool through it all, so long as I'm reassuring and not far away," Clark tells The Dodo. "We've grown to share a beautiful trust in each other, and I know she feels safe with me even when she's out of her comfort zone. Building trust with an animal is one of the most rewarding opportunities to come into my life. The more liberty and respect I give her, the more she surprises me with her intelligence, individuality and desire to show me love."
Want to know more about Amelia the Tropicat? Check out this video: