Owner Shoots Dog In The Head — And Gets Away With It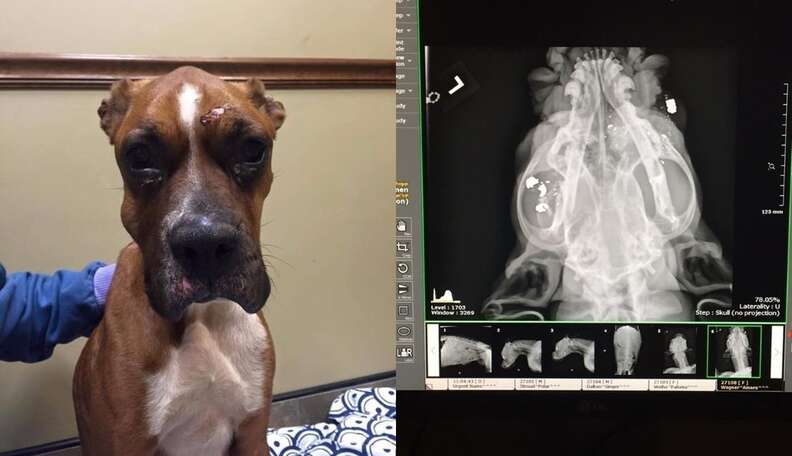 <p><a href="http://www.boxerbuttsandothermutts.org/">Boxer Butts & Other Mutts</a><span></span></p>
After shooting his dog in the head, a South Carolina man paused to check for a heartbeat.
Nothing.
But maybe he had mistaken the dog's heart for his own. Because this dog was still very much alive.
About 20 days later, police got a call about a dog running loose in a Townsville neighborhood.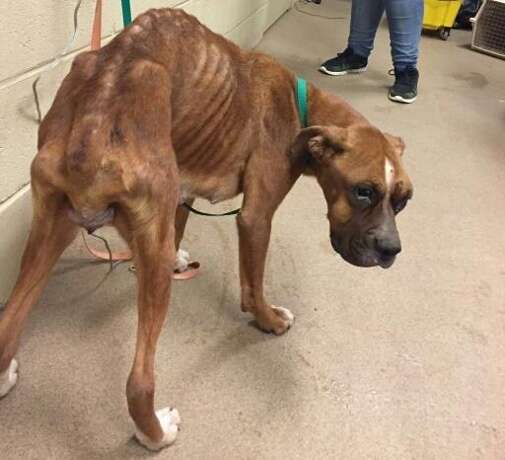 When the deputy arrived, he found a confused, half-starved dog holed up in a neighborhood. She was partially deaf and completely blind. And she appeared to have been shot twice - although Anderson County Sheriff's Office tells The Dodo it may have been just once.
It's hard to tell, you see, with all the shrapnel still embedded in the dog's head.
The officer took her to a local shelter for urgent medical care. A few days later, she was transferred to a North Carolina rescue called Boxer Butts & Other Mutts - where she was given the name Amara.
"She had two wounds on her head, between her eyes and another under her chin," Heidi Wagner, the group's founder, explained to The Dodo. "She does have bullet fragments scattered throughout her skull, and they will remain there because sometimes removing them can cause more damage."
Amara's sorry saga spread quickly on social media. At one point, her former owner recognized the dog and stepped forward to claim responsibility.
He said the dog had been aggressive, even biting his wife. Shooting her was his attempt to euthanize the animal.
A local magistrate, whose identity has not been made public, seems to have felt the same way and decided no charges would be issued in this case.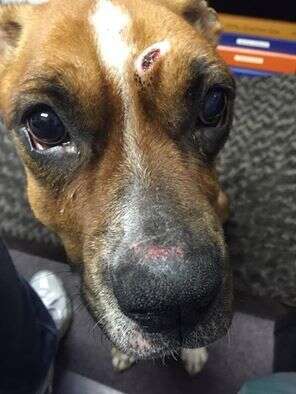 "The facts of the case were presented to a magistrate who determined that no criminal charges in reference to the attempted euthanasia would be issued," reads a statement from the Anderson County Sheriff's Office. "We understand the public's frustration with this case but until and unless the magistrate determines that a criminal warrant should be issued, we cannot proceed further with this case."
The decision has sent animal lovers reeling.
"There is no justice in that decision," Wagner says.
Wayne Brennessel, executive director of the Humane Society of South Carolina (HSSC), echoed that sentiment in an interview with The Herald.
"I don't understand how anyone could hear what happened to her and then say: 'Oh, you shot your dog in the head? Oh, OK. No charges.'"
Indeed, it may be worth reminding Anderson County of a passage from its own legislation that clearly defines animal cruelty as, among other things, "the willful or malicious killing, abuse, maiming, beating or disfiguring of any animal or pet."
For her part, Amara is just beginning a long road to recovery in the HSSC's care.
"She will be blind the rest of her life from being shot in the head but she is adjusting to that," Wagner explains. "The emotional scars may be harder to overcome."
Indeed, Amara has been having nightmares recently.
"She will wake up crying and screaming and in a full-blown panic attack," Wagner notes.