Injured Alpaca Couldn't Walk, So People Gave Her Wheels
The Nobles call themselves "foster failures" - people who take in foster animals, aiming to give them a temporary home while waiting for a forever one, but who ended up falling in love with the animals instead ... and obviously keeping them.
Soon enough the Nobles were taking in just about any animal in need. Their household in Florida grew in number.
One such needy animal was Michelle. Michelle was rescued with a herd of other alpacas needing a loving home, but Michelle's needs were exceptional: It's thought she was injured by a horse, and her back legs were totally crippled.
"We worked with Red Flyer and Eddie's Wheels to get Michelle fitted with a wheelchair which was to be a temporary solution," the Nobles told The Dodo.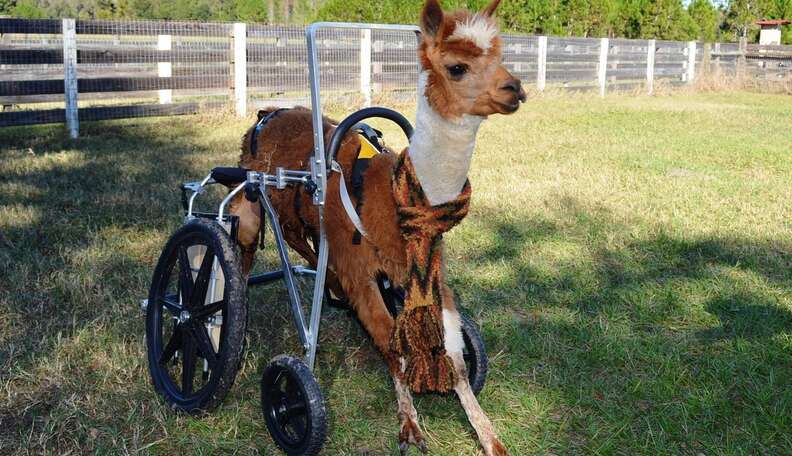 But when the devoted Nobles carried Michelle into her trailer and drove over to the University of Florida Large Animal Hospital to get her walking again, they learned that surgery wouldn't work.
"The staff at UF absolutely adore her, but unfortunately, surgery turned out to not be an option," Noble said.
But the temporary solution that turned out to be permanent doesn't seem to get her down.
In fact, she rolls pretty well with the crowd.
Michelle can be part of the herd ...
... just as well with wheels.
And the herd welcomes her like she's no different.
That's just the kind of love all the animals at Noble Island Ranch & Rescue get.
Have a tip? Email sarahv@thedodo.com.