All The Ways To Learn About Orcas Without Buying A Ticket To SeaWorld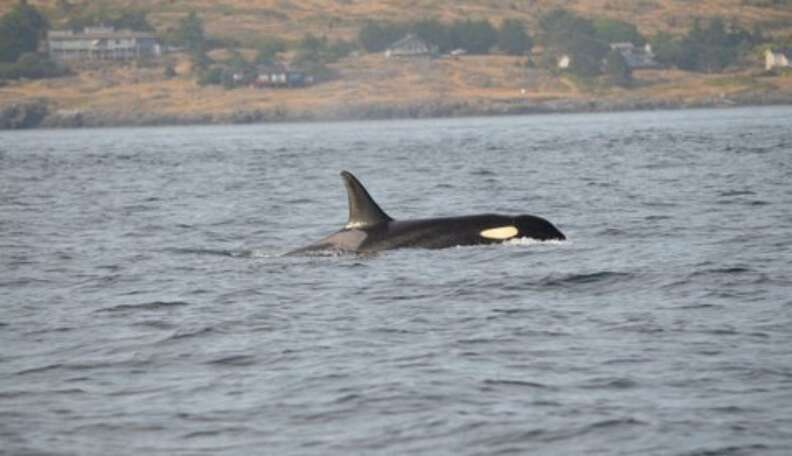 Last summer our family visited the REAL sea world just off the coast of Washington State, where the endangered Southern Resident Killer Whale community makes their summer home. Our visit obliterated any comparison to Sea World and other marine parks. Despite the presence of magnificent orcas in both places, the only bona fide sea world is the ocean.
And seeing them? In their true home? Swimming, blowing and foraging together in their families, among mothers, sisters, brothers, aunts, uncles and grandmothers who've lived side-by-side for their entire lives? It changed us. As my younger son said, "Why would someone rather sit around a tank watching a really unhappy orca do tricks ... when you could be out on the ocean seeing them free and happy?"
Tens of thousands of people are starting to ask the same question, and SeaWorld's stocks are plunging as a result. And if you love and respect killer whales and other marine mammals enough to shun a trip to a marine park, you may find yourself wanting to learn more about the whales you protect with that choice.
My family is lucky - we live within a day's drive of Puget Sound. But for families, or anyone really, far away - you can still experience wild whales and their legacy.
With the endangered wild orca of Puget Sound, it's impossible to separate the history of captivity from the whales' natural history, since the latter has been so impacted by the former. The award-winning movie Blackfish and Death at SeaWorld: Shamu and the Dark Side of Killer Whales in Captivity by David Kirby are two terrific gateway media experiences that you can (judiciously, depending on their maturity) share with your children. The Killer in the Pool by Tim Zimmerman is another excellent segue to understanding the truth about these incredible creatures and the impact SeaWorld has had on them.
These accounts incite awe and respect for these highly evolved beings, while also making for rich discussion. Like why companies are allowed to make profits on cetaceans, what the history of the capture era or how people are responding to the Blackfish Effect. If you want specifics about how the capture industry, including SeaWorld, decimated nearly a third of the Southern Resident Killer Whale population, check out Sandra Pollard's new book Puget Sound Whales for Sale: The Fight to End Whale Hunting. The 8-minute film A Day in the Life of Lolita, the Performing Orca offers respected New Zealand orca biologist Dr. Ingrid Visser's perspective on why killer whales do not belong in captivity, as she visits one of the loneliest whales in the world. Then there are the books Orca, The Whale Called Killer, by Eric Hoyt, Listening to Whales, What the Orcas Have Taught Us, by Alexandra Morton, and Swimming with Orca: My Life with New Zealand Killer Whales by Ingrid Visser, which are some of the best accounts of wild killer whales.
Meanwhile, Keiko: The Untold Story explores how the star of Free Willy moved from captivity to freedom. And the BBC film, The Woman Who Swims with Killer Whales spotlights Dr. Visser as she works to understand the wild population of killer whales she studies. Saving the Ocean with Carl Safina, a 10 episode series available on PBS, and Mission Blue with Sylvia Earle, a special new Netflix production with the Sylvia Earl Alliance, both exceptional programming that expands the conversation from killer whales to the entire ocean environment. Then there's always the magnificent BBC series Planet Earth.
You and your kids can also explore Yo Oceans!, a community of educators dedicated to bringing information on cetaceans and captivity to classrooms around the country, via speakers, workshops, and an online curriculum. You could organize a screening of Blackfish in your local community, create a book club for Death at SeaWorld, and invite speakers to a forum on marine mammal education and conservation. Your child's school could even opt to use the entire YoOceans! curriculum.
(Photo: Rachel Clark) Inside The Whale Museum at Friday Harbor on San Juan Island.
If you're planning a family trip to visit wild whales, talk with your kids about your commitment to learn about and respect the whales in their natural environment. On San Juan Island (one of the best places to encounter the Southern Resident Killer Whales), don't miss The Whale Museum in Friday Harbor. You can also watch the Orca Network Facebook page and find the best viewpoint to see the wild whales by consulting the Viewpoints map. A special feature of San Juan is that you can often see wild whales from shore-at Lime Kiln Point Lighthouse-and there are also reputable, excellent guided whale watches via boat or by kayak. It's worth taking the time to find a company that abides the whale-protection laws, and is careful to respect the whales in their natural settings while offering insight from on-board naturalists. You can look for accreditations, comments, and reviews. Or better yet, ask The Center for Whale Research or The Whale Museum who they recommend. Likewise, PlanetWhale helps people around the world find reputable and responsible tour operators as well as instill a deep and abiding respect for the natural world and the wild whales' place in it.
Perhaps most important, though, is giving yourself and your kids' time: time to fully experience and process what may be a once-in-a lifetime occasion...one that may deeply affect you and your children in unexpected ways. Witnessing the grandeur of one the most highly evolved social mammals ever to appear on Earth-live, up close, in their own natural environment-is something no book, movie, article, or story can really prepare you for. Encountering wild whales may touch a place inside you and your children that you hadn't known before. It happened to us and our boys. May it be true for you, too.