Last summer our family visited the REAL sea world just off the coast of Washington State, where the endangered Southern Resident Killer Whale community makes their summer home. Our visit obliterated any comparison to Sea World and other marine parks. Despite the presence of magnificent orcas in both places, the only bona fide sea world is the ocean.
And seeing them? In their true home? Swimming, blowing and foraging together in their families, among mothers, sisters, brothers, aunts, uncles and grandmothers who've lived side-by-side for their entire lives? It changed us. As my younger son said, "Why would someone rather sit around a tank watching a really unhappy orca do tricks ... when you could be out on the ocean seeing them free and happy?"
Tens of thousands of people are starting to ask the same question, and SeaWorld's stocks are plunging as a result. And if you love and respect killer whales and other marine mammals enough to shun a trip to a marine park, you may find yourself wanting to learn more about the whales you protect with that choice.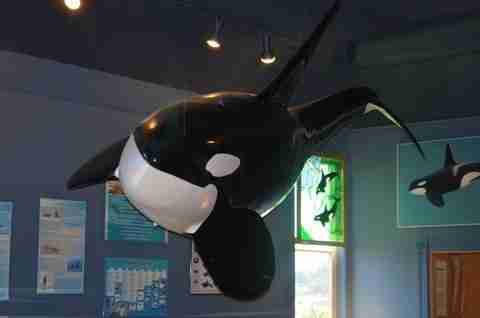 If you're planning a family trip to visit wild whales, talk with your kids about your commitment to learn about and respect the whales in their natural environment. On San Juan Island (one of the best places to encounter the Southern Resident Killer Whales), don't miss The Whale Museum in Friday Harbor. You can also watch the Orca Network Facebook page and find the best viewpoint to see the wild whales by consulting the Viewpoints map. A special feature of San Juan is that you can often see wild whales from shore-at Lime Kiln Point Lighthouse-and there are also reputable, excellent guided whale watches via boat or by kayak. It's worth taking the time to find a company that abides the whale-protection laws, and is careful to respect the whales in their natural settings while offering insight from on-board naturalists. You can look for accreditations, comments, and reviews. Or better yet, ask The Center for Whale Research or The Whale Museum who they recommend. Likewise, PlanetWhale helps people around the world find reputable and responsible tour operators as well as instill a deep and abiding respect for the natural world and the wild whales' place in it.