I've always loved dogs. When I turned five, my parents got me a west highland white terrier, the runt of the litter. I named her Minnie, and she was a faithful friend for 14 years. But as I got older and needed more than a pal and my stinky, 15-pound girl became more of a tripping hazard than any kind of help, my folks started exploring the option of adding a service dog to the family. I've been disabled since birth, and as a kid I was involved in all kinds of adapted activities and sports -- I think our first exposure to service dogs came when one of the kids in my adapted karate class had one.
When I was 13, I received my first service dog, Keno. Overnight, I went from hearing questions from strangers like, "What happened to you?" to "What's your dog's name? How does he help you?" On top of all of the practical, physical help he gave me, Keno changed the way people approached and interacted with me. They stopped seeing a broken object and started to see an interesting person with potential and individuality.
Fast forward to 2011: Keno had retired and passed away the year before (he stuck around for my wedding, even though he was sick, like the loyal lab he was), and I was settling into life as a married adult with this weird thing called responsibility. Through some long, reflective conversations with my husband (read: shrink) during which I realized how I took Keno's help for granted, I decided it was time for another service dog.
I was matched with Bright by Canine Companions for Independence in November of 2011, and she's enhanced my independence -- my life -- in ways I couldn't have imagined. Some of those ways are obvious, like her pulling my chair, and others are more subtle. I love the photo above for the way the camera looks at me. It's the perspective I imagine the world seeing me from: downward. As a kid, everywhere I went, I was surrounded by friends and family who were sensitive to the fact that my experiences were different from theirs. My comfort and safety were always on their minds. But as an adult, I'm often in situations where I don't know anyone, and I'm easily lost in a crowd, especially by people I don't know well, because I'm navigating a world that's not really designed for me. But Bright's always at my side, and is experiencing things from my vantage point. She takes my direction, avoiding curbs, bumps, cracks and narrow aisles, and shoulders her way through groups of seemingly eight-feet-tall, totally oblivious people to get me safely where I need to go. The anxiety I felt about getting around alone during the years when I was dog-less doesn't exist anymore.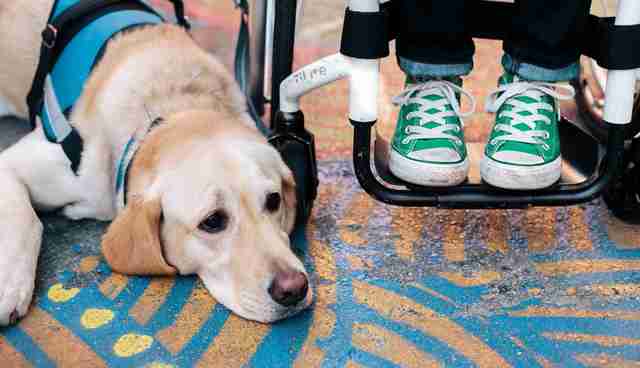 Bright couldn't be a better match for me. She can switch gears from intense, loud, crowded atmospheres to our quiet, chilled out home life without any sweat. She's aware of my needs and always ready to jump into action, but is also independent and curious, and can even be just the right amount of a challenge to handle when I catch her in the right (or wrong, depending on how you look at it) mood. But isn't it great that she has moods? Assistive equipment for people with disabilities is so sterile, cumbersome, and can be such a burden. How lucky I am that I get so much of the help I need from a living, breathing, thinking, feeling, loyal, moody, furry creature.
I've been told we look alike...do you see the resemblance? :)