Almost 80 Horses Were Just Left To Starve
Some people left them hay — but there's another way to help.
In a field near Albacete, Spain, an estimated 80 horses are trying to survive after being left without food or water.
Mother horses who had been nursing can no longer produce milk for their babies, according to reports. And three foals are so thin and weak they can barely stand. Photos show the horses' ribs visible in their sides.
People are now desperate to figure out how to help them. Some local Good Samaritans recently dropped off bales of hay for the animals. But helping them in the long term is more complicated.
Worried locals first reported the abandoned animals to the police on November 25, and Spain's animal welfare agency visited the horses twice since then, according to Easy Horse Care Rescue Center (EHCRC), but officials have yet to make any formal decisions about what to do. And people are scared that time is running out for these horse families.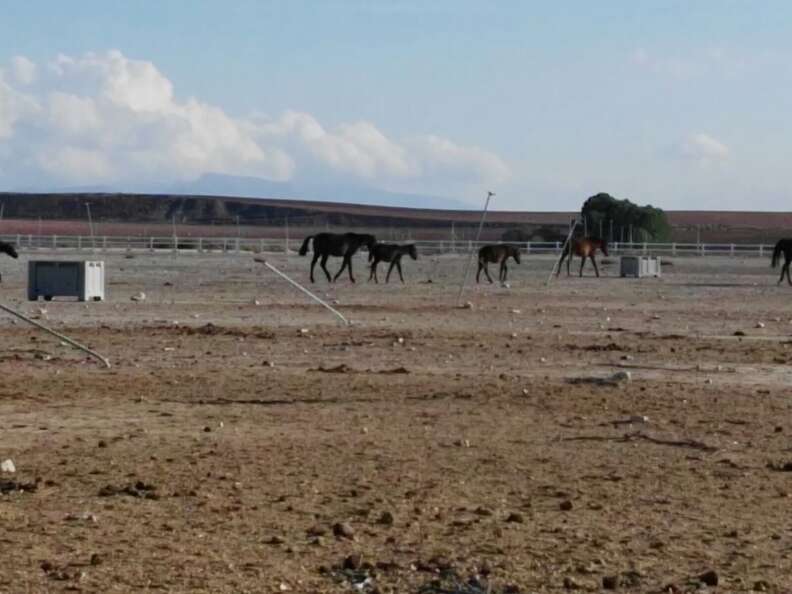 "Our personal opinion is that there has so far been little action on the police's behalf as there is nowhere to rescue these horses to," Koren Helbig, volunteer media manager with EHCRC, a nonprofit in the region that works to save neglected and abused horses and donkeys, told The Dodo.
"This used to happen often in our area," Helbig explained. "Police would receive official reports of abuse and neglect, would agree that the case warranted action, but would be unwilling/unable to act as there was simply nowhere to place such a big animal after a legal seizure."
The good news is that, since it started in 2008, EHCRC has helped raise awareness about the plight of abandoned horses.
"Now that we are here, police are much more willing to act and often attend our rescues then legally place the animal in our care," Helbig said. "However, we still receive absolutely no government funding and rely entirely on donations to survive, which is why we simply couldn't afford to take all 80 Albacete horses should they be seized."
But financial crises in the area means that more and more animals suffer neglect because their owners simply can't afford to care for them - and the country doesn't seem to have the needed resources either.
"This happens all too often, horses being abandoned in large numbers as the financial crisis here continues," EHCRC wrote. "We urgently need to create a proper animal welfare system here, like those that exist in the U.K. and other European Union countries. This cannot go on."
Despite being at nearly full capacity, EHCRC offered to take in two of the horses - the shelter already has 99 in its care - but the owner of the horses has apparently refused to surrender his animals, even though they are starving. And the police have not enacted a formal seizure of the horses - probably because there really isn't any place for them to go.
"It's crazy that everybody knows these animals are starving but nobody can do anything because there's nowhere to put them, nowhere for these animals to be rescued to," EHCRC wrote. "We feel so frustrated. If we had the money and the facilities, we would be there in a heartbeat ... But we need help. We need funding. We need space."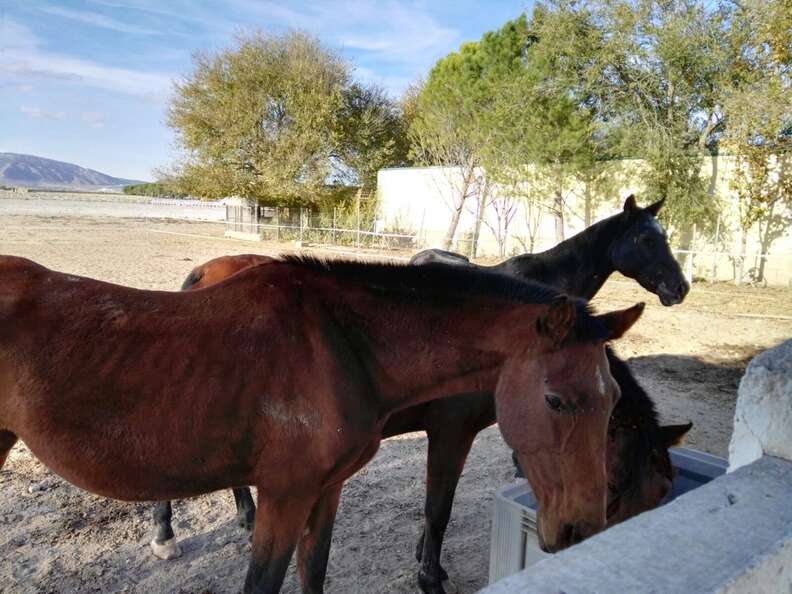 To help EHCRC rescue more horses, click here.