Cop Rescues Pit Bull Puppy, Decides To Keep Him Forever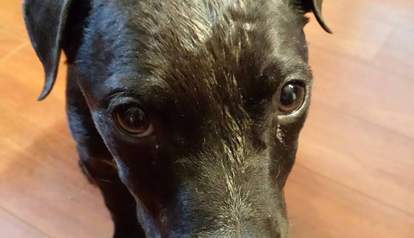 <p> <a class="checked-link" href="https://www.facebook.com/OperationPhil/timeline?ref=page_internal">Operation Phil/Facebook</a><span></span> </p>
Even from a distance, the pair of police officers on patrol in Anniston, Ala., knew something was wrong with the black puppy on the side of the road.
As they drove closer, the pup's state became clear: The malnourished pit bull was covered in pus and blood, and his head had swollen so much he could barely see.
"We pulled over and the puppy tried to run away," Officer Matthew Preuninger told The Dodo, "but he was not able to run fast nor straight due to the swelling in his face." An emergency trip to the local animal hospital revealed that the dog had lacerations on his head, neck and shoulders - signs consistent with a bait dog in a fighting ring. According to the veterinarian, had the police not found the dog, Preuninger said, he would not have survived.
But the pup pulled through, and by the time he reached the vet, he already had a name: Phil.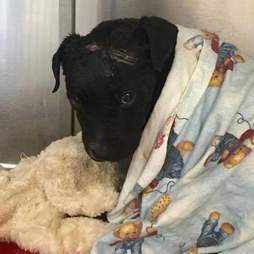 "The name just popped in my head, and me and my partner ran with it," Preuninger said. When Officer Preuninger's wife, LaDawn, saw the pit bull for the first time, his fate was sealed. Phil had found a family.
"Of course, she didn't have to tell me twice," Preuninger said. He added that Phil's a docile pup who "loves my wife and is absolutely at ease with her."
In his new home, Phil is adapting to domestic life, which currently consists of what Preuninger described as "sleep, bathroom, eat, play, eat, bathroom, sleep" - typical puppy activities, in other words. And when Phil whimpers and barks at night - he's "haunted at night by his nightmares" - the Preuningers are there to reassure him.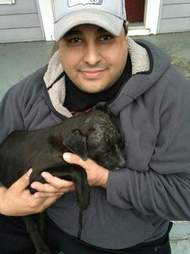 On a federal level, dogfighting and other forms of animal cruelty are now punishable as felonies in all 50 states. Dogs like Phil are a sad reminder that dogfighting still plagues many cities. It's a big issue, Preuninger said, but one that frequently flies under the radar of both city leaders and residents.
"No creature on this earth," Preuninger said, "deserves to suffer because of ignorance and malice."