Hairless Cat Lost By Airline For Days ... Until Someone Hears A Meow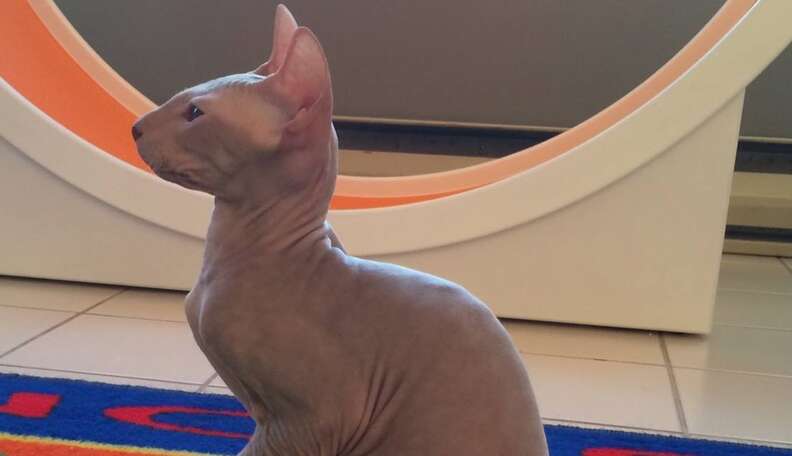 <p> <a href="https://www.facebook.com/wheresrudy/photos/pb.891622630895398.-2207520000.1433796455./891678274223167/?type=1&theater">Facebook/Help us find Rudy</a><span></span> </p>
Rudy had to catch a flight from Seattle to Tampa, with a stop-over in Atlanta, to join his new family. Rudy is a hairless cat.
"We purchased the cat and we've been watching him grow and everything over the past four months," Tamsin Dayment told local news outlet WWSB. Dayment had bought the special hairless cat to join their cat-loving family, which has five rescued feline members already.
But something went wrong in Atlanta. Perhaps his crate tipped over during the stopover, or maybe a lock was loose and Rudy scurried out, but, on June 4, Dayment received a call from Delta Airlines saying that Rudy had been lost at terminal D24.
The devastated family started a Facebook page, even hired a dog detective to sniff out the lost cat and offered a $2,000 reward for Rudy's safe return.
Delta employees pitched in to help the efforts, as the family flew from Florida to help scour the Atlanta airport.
"RUDY HAS BEEN F O U N D!!!!!!!!! I am ecstatic and can't breath right now but he is found!!!!!!!!!!" the Facebook page announced on June 8.
"He was heard meowing around midnight by some airport employees, a search team then formed and they found Rudy!!" the Facebook page added later.
The family has also decided to reappropriate the page to helping others find their lost pets.