Rhino Poaching Grinds To A Halt Under Drones' Watch
<p> <a href="https://www.youtube.com/channel/UCD4IXBejFVqKuz-5tAHEa2A"><u>Air Shepherd</u></a>/<a href="https://www.youtube.com/watch?v=TTjoIycDGiY"><u>YouTube</u></a><span></span><br></p>
<p> <a href="https://www.youtube.com/channel/UCD4IXBejFVqKuz-5tAHEa2A"><u>Air Shepherd</u></a>/<a href="https://www.youtube.com/watch?v=TTjoIycDGiY"><u>YouTube</u></a><span></span><br></p>
Rhino poaching in parts of South Africa has dropped to essentially nil, thanks to a combination of cheap drones and complex number-crunching.
"Since October 1," said Thomas Snitch, Ph.D., the University of Maryland professor who helped get the program off the ground, "not one rhino has been killed where we're flying."
Elsewhere, unfortunately, poaching is still a serious problem for elephants and rhinoceros. With more than 1,200 animals killed globally for their horns, 2014 was the worst year on record for illegal rhino hunting. We can't graft wings on a 7,000-pound mammal so that he can evade illegal hunters. But the next best thing? Drones, baby, drones - plus a University of Maryland supercomputer.
To plot a drone's course, the computer relies on the previous two years of rhino-tracking data, updated once a week. It can predict where the rhinos will be on a given evening with, typically, more than 90 percent accuracy. This info is emailed halfway around the globe from the Maryland computer - though Snitch hopes the program will soon be handed off to African universities - then downloaded and transferred to drone via USB stick.
Their trails thus blazed, the drones give a ranger team enough time to plot an interdiction course between poacher and rhino. The idea, according to Snitch, is that you don't have to find the poachers - just the animals most likely to end up in harm's way. As massive as a rhino or elephant is, however, blindly patrolling a preserve the size of Texas won't cut it.
The ace in the hole? "Poachers, like people all over the world, are lazy," Snitch said, speaking during a recent lecture at the New York University Digital Animals Conference. (Full disclosure: The Dodo was one of the conference's sponsors.) The hunters mainly stick close to roads and rivers, for easy access to and from a kill.
As he speaks, Snitch dips into wells of both academic and military lingo (Snitch's analytical roots stretch back to calculating where explosive devices might lie along Afghan or Iraqi roads). When he talks about the drone program's efficacy, he's all professor. Yes, in areas where these drones are flying, he said, poaching has dropped from three or four dead animals per month to zero - but he won't go as far as to explicitly say drones are the cause.
Poaching isn't going anywhere soon, of course, which is why Snitch has teamed up with local universities as well as the Lindbergh Foundation to create an initiative called Air Shepherd. The program is poised to have the drones flying over parks in seven south African countries.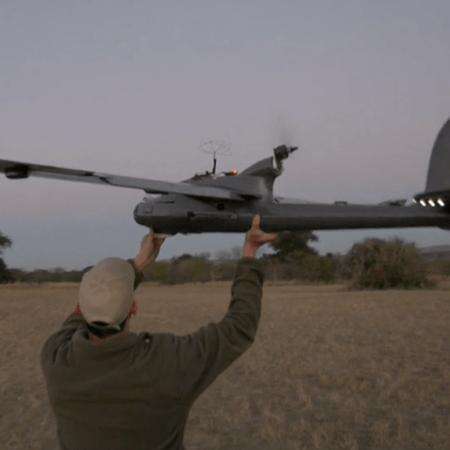 These drones mark a sort of technological limit for where practical anti-poaching measures can go: If a drone's foam wing breaks, for instance, a replacement wing is simply popped in place. Down to their pictogram-only instructions, these machines are the IKEA answer to the American military's top-of-the-line, jet-fuel-powered marvels. Those high-maintenance devices would do little more, in the long run, than gather dust.
Plus, the drones in Air Shepherd's program are inexpensive. This is fighting poaching in "an African way," Snitch said, "not an American way."
To find out more about Air Shepherd, check out the video below or visit its website.