After Being Abandoned In Dumpster, Pit Bull Bounces Back With Smile On His Face
<p> Erin Kowalski/Bialy's Wellness Foundation<span></span> </p>
Josh was found in January in a dumpster. He had blunt force trauma to his lumbar/sacral spine which resulted in no use of his back legs. Josh was rescued from animal control by Chicagoland Bully Breed Rescue (www.cbbr.org). They brought him to their veterinarian who did X-rays and treated him for pneumonia. It was found that surgery would not fix his legs.
Bialy's Wellness Foundation (www.bialyswellnessfoundation.org) came into the picture in February and their founder, Erin, offered to foster Josh since she already had a lot of experience with special needs animals and is a canine massage therapist. Joining forces, CBBR and BWF are dedicated to giving Josh the best opportunity possible to walk again. He received some donated equipment and is going to Integrative Pet Care for physical therapy, laser therapy, hydrotherapy, NMES, and acupuncture three times a week and Erin provides daily massage therapy for Josh. There is hope but it takes a lot of therapy, finances and dedication to get him where he needs to be.
When Josh is not in his wheelchair, he is in his "Scoot Suit" and happy to hop around.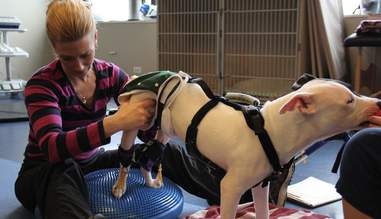 Photo: Erin Kowalski/Bialy's Wellness Foundation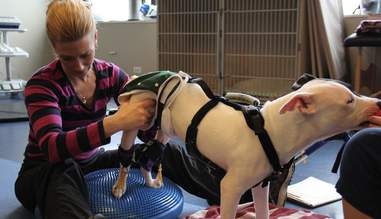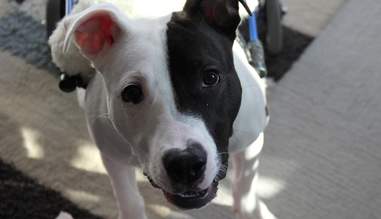 Photo: Erin Kowalski/Bialy's Wellness Foundation
Photo: Erin Kowalski/Bialy's Wellness Foundation
Photo: Erin Kowalski/Bialy's Wellness Foundation
Photo: Erin Kowalski/Bialy's Wellness Foundation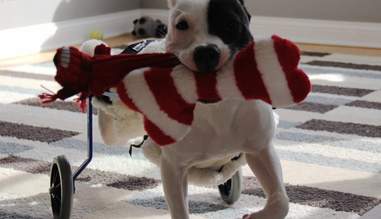 Photo: Erin Kowalski/Bialy's Wellness Foundation
Photo: Erin Kowalski/Bialy's Wellness Foundation
Photo: Erin Kowalski/Bialy's Wellness Foundation