After 40 Years, "Lolita" The Captive Orca Could Return To Sea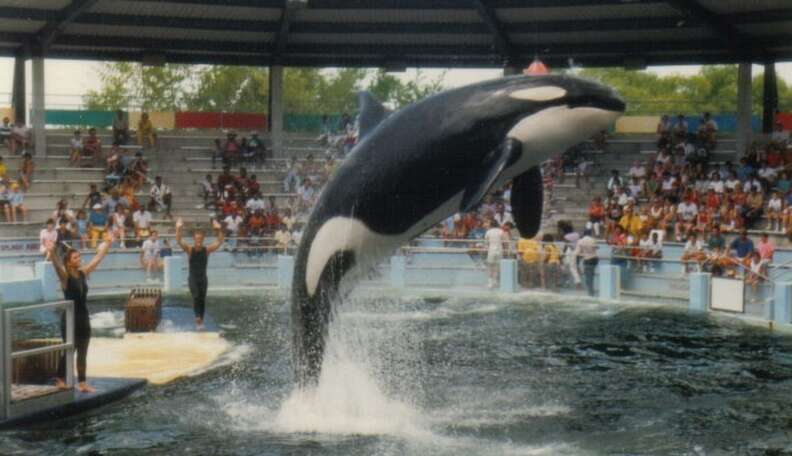 <p>Wikimedia Commons</p>
<p>Wikimedia Commons</p>
The new year may be a good one for Lolita, the 7,000 pound orca that has lived at the Miami Seaquarium for over 40 years. The National Marine Fisheries Service (NMFS) proposed a rule on Friday to grant Lolita protection as an endangered species -- a ruling that may allow for her to be retired from performing and transferred to a seaside sanctuary.
The proposal, spurred by a petition by PETA, the Animal Legal Defense Fund (ALDF), Orca Network and others, would include Lolita as a member of the Southern Resident orcas -- a population of just 85 animals that was listed as endangered by the U.S. Fish and Wildlife Service in 2005. Lolita was seized from this population in 1970 for captivity.
"Lolita should never have been excluded from the Endangered Species Act in the first place, and now the government has righted that wrong," says general counsel to PETA Jeffrey Kerr. "Lolita has suffered in that tank every day for more than four decades, and PETA is working hard to see her one day freed from her ordeal."
Activists have long called for the whale's retirement -- she is held in the smallest orca tank in North America. Lolita has also been without another orca since 1980, a fact that is considered inhumane, because orcas are such social creatures and often live in pods of more than 20 individuals.
It's likely that after 40 years in captivity, Lolita will not be released back into the wild. Some contend that Lolita could be released in the wild, because she may be able to reunite with her former pod. Others say that life in a sea pen would be better, since she has become accustomed to relying on humans. But either way, says marine biologist Candace Calloway Whiting in The Huffington Post, the "time has come" for her retirement.
There is already a bay site established for her retirement, and a plan in place to take care of her until she can be reunited with her wild family or remain in the pen for the duration of her life depending upon how well she is able to recover from the years alone in a tank.
The U.S. government will now seek public comment on the issue, during which people can express their opinion on the issue here. Activists have heralded the proposal as a big step in the right direction.
"The ALDF pledges to do everything in its power to see to it that she's returned to the sea as soon as possible," says ALDF Executive Director Stephen Wells.