Africa's Last Polar Bear Has Died -- And Will Not Be Replaced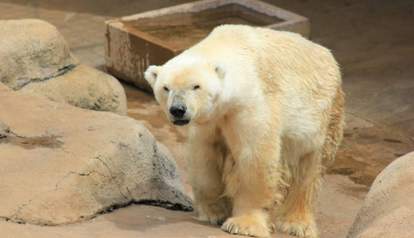 After being housed for the last three decades at a zoo thousands of miles from his native habitat in the arctic, the last remaining polar bear in Africa has died.
The 30-year-old bear, named Wang, was a cub when he arrived to South Africa's Johannesburg Zoo in 1986, along with another polar bear, called Geebee. Despite living in a region where temperatures can reach 95 degrees, having one another as companions seemed to help the pair cope with the rigors of their captivity.
Earlier this year, however, after Geebee died of natural causes, Wang's health began to deteriorate. According to his keepers, the distraught polar bear spent the following months "pinning the loss of his beloved partner" while other complications arising from liver and heart failure only worsened.
This week, after Wang's health suddenly took a turn for the worse, the zoo decided to put him down, ending the presence of the species on the continent -- perhaps for good.
Although Wang and Geebee were among the facility's most popular exhibits, zoo spokesperson Jenny Moodley told Al Jazeera that they will not seek to replace them, citing the unnatural conditions of the region for polar bears.
"It was a decision taken in consideration of the climate," she said. "Polar bears adapt, but we are now looking to focus on the protection of indigenous animals."